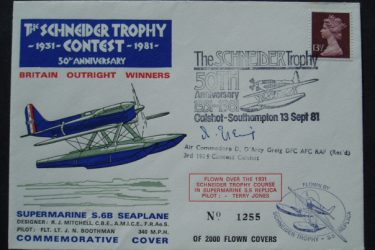 Air Cdre D'Arcy Greig
Schneider Trophy Signed Cover
Signed by Air Cdre D'Arcy Greig DFC AFC
A 1981 Schneider Trophy 30th Anniversary Cover signed by 
Air Commodore David D'Arcy Greig DFC AFC
(1900-1986)
D'Arcy Greig flew with 83 squadron in WWI and in September 1918 was shot down behind enemy lines but managed to evade capture and walked home through the lines, a distance of 13 miles.
Whilst an Instructor at the Central Flying School, he carried out aerobatic displays with John Boothman, where they did a mirrored falling leaf, with Boothman being inverted.  During one of these displays, Greig's aircraft fell apart in the air but fortunately he walked away from the wreckage uninjured.  He also led the CFS aerobatic team of five Genet Moths in 1927.
Selected as a member of the High Speed Flight, in 1928 he raised the World Air Speed Record to 319.57 mph in the Supermarine S5 and finished 3rd in the 1929 race behind the Supermarine S6 which won it for Britain
A scarce WW1 and Schneider Trophy signature
Limited edition no 105/150 
D'Arcy Greig's autobiography is called 'My Golden Flying Years' published posthumously by Grub Street (2010) and Spitfire Books has a pristine copy of this book available at £15. Please enquire.