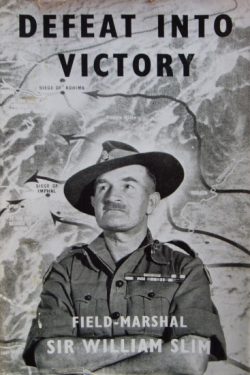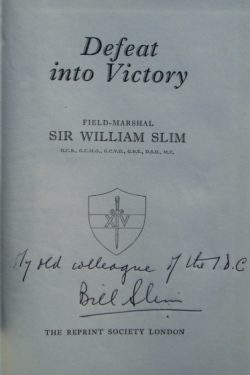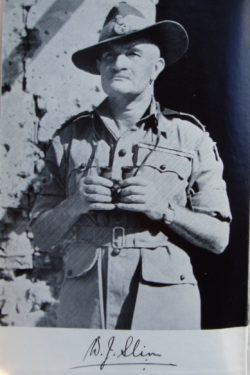 DEFEAT into VICTORY
Field-Marshal Sir William Slim
Signed by Field-Marshal Bill Slim
Sold
Signed by Field-Marshal Sir William Slim on the title page
'My old colleague of the IDC (Imperial Defence College)
Bill Slim'
The Reprint Society Edition, 1957 (first published by Cassell in 1956).   562 pages and illustrated with maps.
Fine condition clean, solid hardback book in blue boards with burgundy spine patches and gold gilt titles with Slim's signature embossed in gold on the front cover. The dustjacket is in Near Fine condition, complete, bright and unclipped with some edgewear to the top edge but looking smart in its protective wrapper. NB. Slim's signature under the frontispiece photo is printed. 
'The finest general World War Two produced.'

Admiral Lord Louis Mountbatten, Supreme Allied Commander South East Asia, 1946
Field-Marshal William Slim, Ist Vicount Slim, KG GCB GCMG GCVO GBE DSO MC KStJ (1891-1970) is best known for commanding the Fourteenth Army in Burma during WWII. He inherited a disastrous situation and led shattered British forces from Burma to India in one of the lesser-known but more nightmarish retreats of WWII. He then restored his army's fighting capabilities and morale with virtually no support from home and counterattacked which, with pragmatic skill and quiet charisma, he turned into ultimate victory.  The first edition of 'Defeat Into Victory', published in 1956, was an immediate sensation selling 20,000 copies within a few days and is now recognised as one of the great military memoirs of all time. 
Field-Marshal Bill Slim is less well known than other WWII generals, but is now widely regarded as the best. To the men under his command he was 'Uncle Bill', probably the most respected and loved military leader since the Duke of Marlborough. Born into an impoverished family in Bristol in 1891 and brought up in the Black Country, he was commissioned as a temporary Second Lieutenant on the outbreak of the First World War. Twice seriously wounded, in Gallipoli and Mesopotamia, he was awarded the Military Cross in 1918.
After the war he was unable to remain an officer in the class-ridden British Army without private means and transferred to the Indian Army, where he developed an enduring affection for the Ghurkhas and began writing short stories to supplement his income. Slim's career stalled between the wars, but during this time he developed the leadership techniques that would make him a national hero within a decade and which are still taught today at Sandhurst.
Promotion came rapidly with WWII, and in March 1942 he was sent to Burma to take command of the British-Indian First Burma Corps, then in full flight from the advancing Japanese. Through the force of his leadership, Slim turned disorderly panic into a controlled military withdrawal across the border into India. He was a fine manager of men and able to get them to do his bidding. In return, Slim's men saw him as one of them. He was above all a soldiers' soldier. Two years later, having raised and retrained the largest army ever assembled by Britain, Slim drove the enemy out of Burma and shattered the myth of Japanese invincibility which had hamstrung the Allied operations in the East for so long. 
Slim returned to Britain laden with awards and honours. After the war Slim was Commandant of the Imperial Defence College (1946-48) and then Chief of the Imperial General Staff (1948-52). He became a popular Governor-General of Australia in 1953, was raised to the peerage, and died in London in 1970.
An essential book for anyone with an interest in the war in the Far East and an undedicated signed copy would be a great addition to any WWII library.