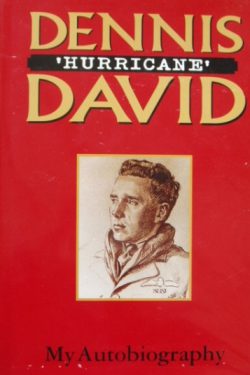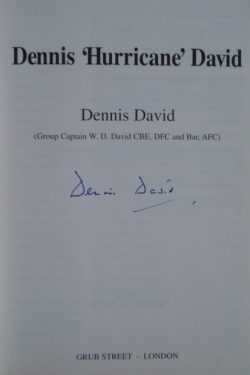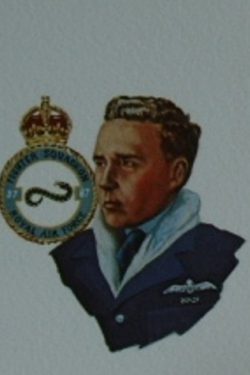 DENNIS 'Hurricane' DAVID
Group Captain W.D. David CBE DFC* AFC
Signed by Dennis David
Sold
Signed by

Dennis David on

 the Title Page 

 
Grub Street First edition 2000. 216 pages and well illustrated with photographs
Fine condition hardback book and dustjacket. A superb copy.
Dennis David had what was termed 'an active war', especially during the Battle for France, and the Battle of Britain, becoming an Ace with over 15 victories and winning 2 DFCs in 5 days. His post war career was equally distinguished and throughout his 30 years in the RAF as a fighter pilot, staff officer, aide and Air Attache, Dennis never lost his nose for a good story or whimsical occurance, in most of which he himself was involved.
Sadly, Dennis David passed away a few weeks after the publication of this book in 2000 thus making this a scarce signed Battle of Britain book.