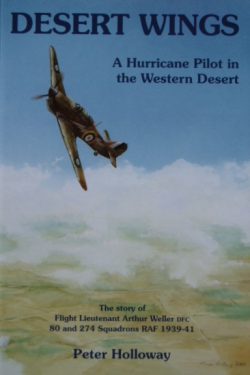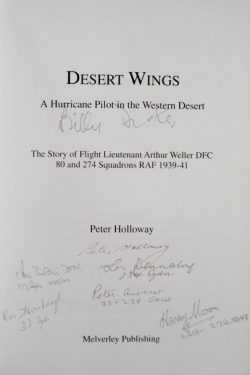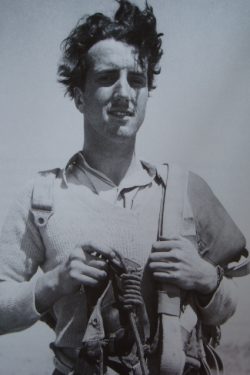 DESERT WINGS
A Hurricane Pilot in the Western Desert
Multi-Signed by RAF Hurricane Pilots
The story of Flt Lt Arthur Weller DFC ~ 80 & 274 Squadrons RAF 1939~41
Signed in pencil by the author Peter Holloway and
RAF Hawker Hurricane fighter pilots
who flew in the Western Desert Campaign during World War II
Group Captain Billy Drake DSO, DFC*, DFC (US),
Squadron Leader Ian Blair DFM,
Wing Commander Peter Ayerst DFC,
Flight Lieutenant Les "Chunky" Dennahy,
Squadron Leader Harry Moon,
Flight Lieutenant Ron Farmborough
+
Bookplate signed by Air Marshal Sir John Lapsley KBE CB DFC AFC
who flew with Weller and was his best man at his wedding in 1941

Melverley First Edition 2001.  304 pages including lots of  photos. 
Mint condition card cover book. Clean, tight, bright and unread. As new. 
'Desert Wings' is the story of Arthur Weller, a young fighter pilot caught up in the frantic air war in North Africa in 1940.  The author is the nephew of Arthur Weller and his meticulous research and first hand testimonials gives a unique insight into the life of the pilots in the western desert.
'Captures the atmosphere of those days so well I felt I was back there' Wg Cdr RF 'Dicky' Martin OBE DFC*
This item is listed on ACE
To purchase or discuss, please contact Spitfire Books