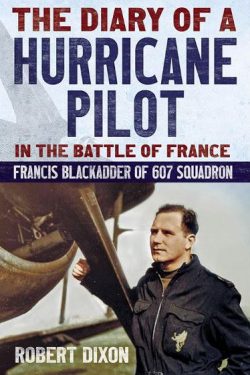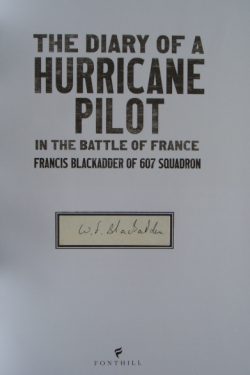 The DIARY of a HURRICANE PILOT
Francis Blackadder of 607 Squadron in the Battle of France
Signed by Wing Commander Francis Blackadder DSO OBE
Sold
Signature of Wing Commander Francis Blackadder

DSO OBE

Fonthill First edition 2015. 158 pages and well illustrated with photographs.
New hardback book and dustjacket. Mint condition.
William Francis Blackadder was a pilot with 607 Squadron, one of only two Auxilliary Air Force squadrons sent to France in late 1939. The diary begins at the Squadron's annual camp at Abbotsinch in August 1939 and finishes in Brussels in May 1940.  Until April 1940, 607 Squadron was equipped with bi-plane Gloster Gladiators but fortunately received Hurricanes just in time to face the Blitzkerieg.  The writings reflect the excitement and frustration during the days of the Phoney War and then the mayhem of the invasion of France and the furious battles in the skies overhead.
Francis Blackadder was awarded a DSO in June 1940 for his actions in France where he was credited with three victories.  He claimed several more during the Battle of Britain and finished the war as a Wing Commander.
This beautifully illustrated book gives a fresh insight into the early days of the air war in WWII and is enhanced by the scarce signature of Francis Blackadder.