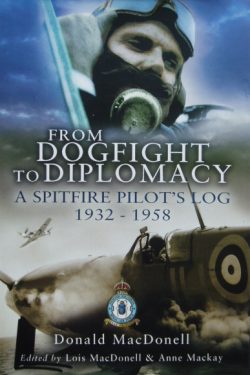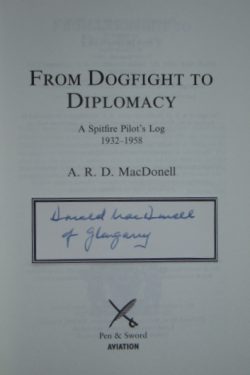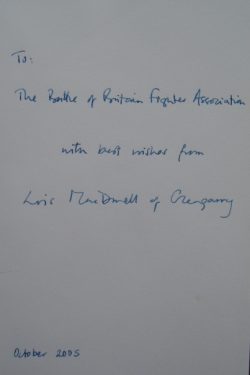 DOGFIGHT to DIPLOMACY
A Spitfire Pilot's Log 1932 ~ 1958
Signed by Air Cdre Donald MacDonell CB DFC
Sold
Presentation inscription on the front end paper
'To the Battle of Britain Fighter Association from




Lady Lois MacDonell of Glengarry, October 2005′
Bookplate signed by Donald MacDonell of Glengarry on the title page
CO of 64 Squadron during the Battle of Britain
Pen and Sword. First edition 2005.    354 pages plus photographs .
Fine condition hardback book and dustjacket. Practically as new and feels unread.  This book came from the library of Air Cdre Peter Brothers who was Chairman of the Battle of Britain Fighter Association at the time of his death in 2008.
This autobiography was published posthumously and tells the story of a distinguished Clan Donald Chief, descended from warrior chiefs dating back to the 12th century who continued his Clan's remarkable tradition by commanding 64 Spitfire Squadron during the Battle of Britain.  In 1941, he was shot down by Werner Molders and spent time in Stalag Luft III where he helped organise the 'Wooden Horse' escape  In the 1950's he was Air Attaché at the British Embassy in Moscow.
These memoirs were written in the 1980s and were edited by the author's wife.  The chapters on the Battle of Britain and his years as a POW are of particular interest as he encountered many characters such as Douglas Bader and he gives a personal insight into their characters and activities.  MacDonell was also Chairman of the Battle of Britain Fighter Association from 1960-1978.
A lovely association book and signature for a Battle of Britain Library.