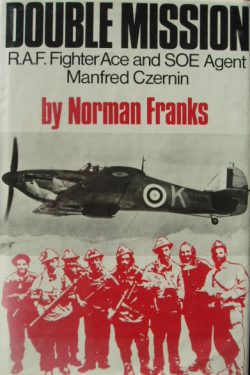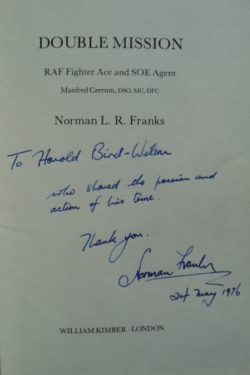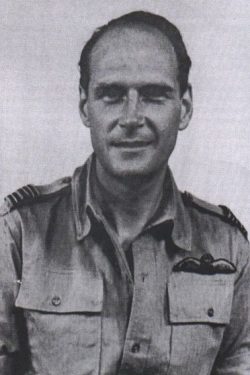 DOUBLE MISSION
RAF Fighter Ace and SOE Agent ~ Manfred Czernin
From the library of a Battle of Britain Pilot
Sold
Presentation copy to Air Vice-Marshal Harold 'Birdy' Bird-Wilson who flew with Czernin on 17 Squadron during the Battle of Britain and who was a major contributor to the book
'To Harold Bird-Wilson who shared the passion and action of his time' 

The book contains annotations and notes made by 'Birdy' along with a card from Gp Capt Denys Gillam (616 & 312 Sqns Battle of Britain) who had borrowed the book and was returning it with a comment:
'Many thanks for the loan of this book. I found it extremely interesting.  As usual it's the fault of them and not the efficiency of us!'
Plus a card signed by Bird-Wilson and some photos
William Kimber First Edition 1976.  192 pages including photographs
Very Good condition hardback book and dustjacket.
The son of an Austrian Count and an English mother, Czernin flew with 17 Squadron in the Battles of France and Britain gaining over 13 victories and was awarded the DFC.  He then became an SOE agent, fighting with the Italian partisans winning both the DSO and MC for his actions.  His life and personality set him apart as both a man and a fighter.
Following Czernin's death in 1962, Birdy wrote a letter to 'The Times' which is published as the epilogue to the book in which he states : 'I served with Czernin in 17 Squadron in France and throughout the Battle of Britain.  He will always be remembered by his fellow pilots for his keenness to engage the enemy and for his disregard of personal risk in carrying out head-on attacks on large formations of enemy aircraft in his Hurricane….. I have never known a braver officer'.
An interesting and scarce Battle of Britain biography with a great association having belonged to one Battle of Britain ace and been read by another.