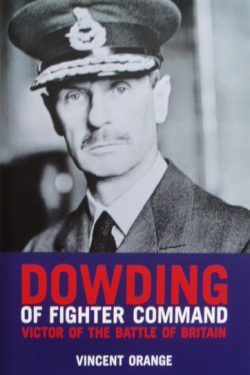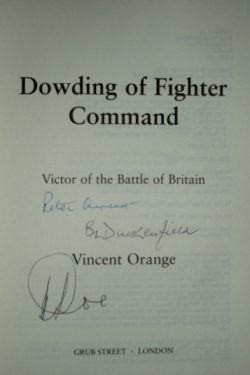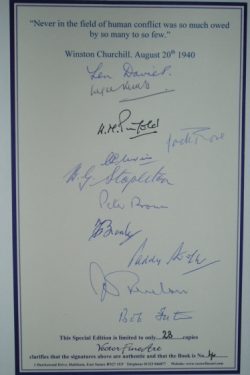 DOWDING of FIGHTER COMMAND
Victor of the Battle of Britain
Multi-signed by RAF Battle of Britain Aircrew
Signed on the title page by
Wing Commander Peter Ayerst
Group Captain Byron Duckenfield
Wing Commander Bob Doe
Special Edition Bookplate signed by 11 Battle of Britain Aircrew
Len Davies ~ Nigel Kemp
HM Pinfold ~ Jack Rose
'Grumpy' Unwin ~ 'Stapme' Stapleton
Peter Brown ~ Bob Foster
Frederick Barker ~ Paddy Barthropp
John Freeborn
Grub Street First Edition 2008.  320 pages and well illustrated with photographs.
Mint condition hardback book and dustjacket. As new.
This is the first complete biography of Dowding and comprehensively evaluates his exceptional career.  Soldier, pilot, wireless pioneer, squadron commander, spiritualist, champion skier, creator of the first radar-based air defence system and steadfast leadership during Britain's 'Darkest Hour' mark Dowding out as a truly great man.
An excellent collection of signatures in a well researched and important book.