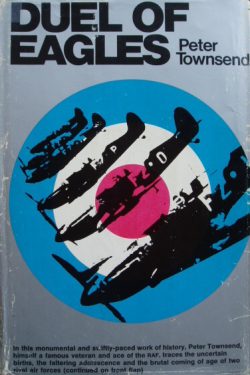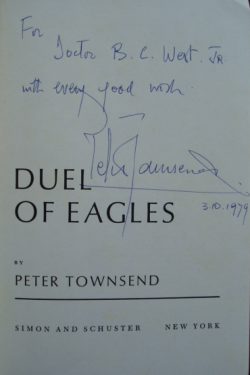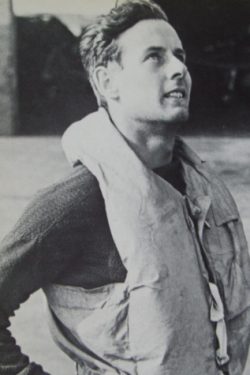 DUEL of EAGLES
By Group Captain Peter Townsend CVO DSO DFC*
Signed by Peter Townsend
Sold
Inscribed, signed and dated by Peter Townsend on the title page
Simon and Schuster. First USA Edition, first printing 1970.  480 pages with photos and maps.
Very Good condition hardback book in a Good condition dustjacket. The book itself is clean, bright and tight with some marks to the covers.  The dustjacket is complete and unclipped.  It has some internal repairs and there is edgewear but no loss.  It still looks smart in its protective cover.
A detailed analysis of the events leading to the Battle of Britain and an account of the Battle itself told by a Hurricane Squadron Commander who was in the thick of the fighting with 85 Squadron.  This is still one of the best full histories of the Battle of Britain and the only one written by a participant.
Dr. Bryan C. (B.C.) West, Jr. (1928 – 1993) was a noted autograph dealer/collector specialising in Declaration of Independence, Inventors, Scientists, Medicine, World War I and World War II notables.  Dr West made numerous trips to Germany accompanied, at times, by Hans Rossbach and Jacob Tiefenthaler who acted as ambassadors (of sorts) between dealers/collectors and the German WWI and WWII notables. In 1985, Dr. West was presented with the Conservation Service Award (CSA) by the United States Department of Interior for his effort in recovering stolen items from the Thomas A. Edison Museum including hand-written notes by Edison himself. Dr West also served on the board of the Manuscript Society as Treasurer.
A very readable account of the Battle enhanced by a characteristic Townsend signature.