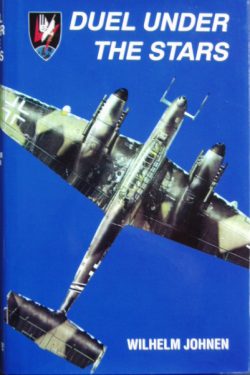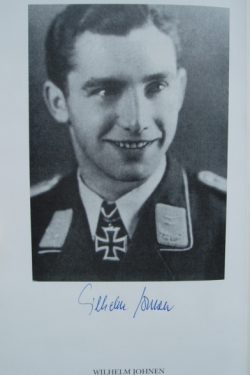 DUEL under the STARS
By Wilhelm Johnen KC
Signed by Wilhelm Johnen
Sold
Signed by William Johnen on the frontispiece under his photograph
Crecy Books Revised Edition. Published in 1994.  220 pages with photographs.  Additional photos and new postscript.
Fine condition hardback book and Fine condition dustjacket. Clean, tight and bright. As new.
This is a Luftwaffe Me 110 night fighter ace's account of Luftwaffe night fighter operations in WWII.  It was one of the first of its type published in English by William Kimber in 1957 and it has been reprinted many times, including a new paperback this year. His story covers events not only in the air in the night battles over Germany but also of the technological war waged throughout, the decline of the Luftwaffe and the dreadful effect of Allied raids over the Reich.
Hauptmann Wilhelm Johnen KC (1944), NJG1, NJG5, 34 victories, died in 2002
A scarce, classic Luftwaffe night fighter memoir giving a fascinating and dramatic account of the night air war over Germany 'from the other side'.