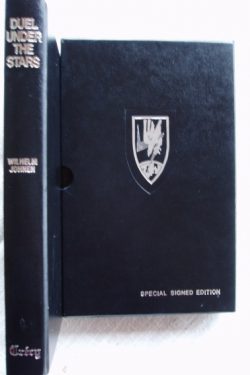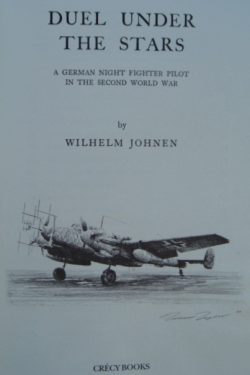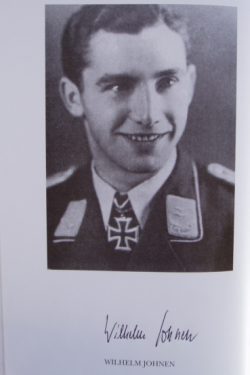 DUEL under the STARS
By Wilhelm Johnen KC
Taylor Remarqued Special Multi-Signed Edition
Sold
Completely Unique Special Edition ~ the only one!
Exquisite Pencil Remarque of a Nachtjagd Bf 110G-4 by Richard Taylor
Signed by William Johnen on the frontispiece under his photograph
Further 15 tipped in signed photographs of German and British night fighter pilots;
each pilot on a single page, with photo, career details and signature:
Major Paul Zorner
Air Marshal Sir Ivor Broom
Major Günther Bahr
Wing Commander Alan Joseph Owen
Oberst Wolfgang Falck
Wing Commander George Parry
Hauptman Hermann Greiner
Oberst Hajo Herrmann
Squadron Leader Charles Patterson
Major Werner Hoffmann
Wing Commander Roy Ralston
Oberstleutenant Hans-Joachim Jabs
Squadron Leader Ronald Woodman
Hauptman Peter Spoden
Wing Commander Peter Channer

Richard Taylor's extraordinary skill with a pencil is unsurpassed and his exquisite, detailed remarque drawings are highly prized by collectors. Having his drawing of Johnen's NJG 1 Messerschmitt Bf 110G-4 on the title page of 'Duel Under The Stars', opposite Johnen's original flat signature, is a fantastic, one-off combination specially commissioned by Spitfire Books.
Crecy Books Special Signed Edition. Published in 1994.  220 pages with photographs.
Fine condition hardback book in black covers with silver gilt titles and matching black slipcase with the NJG 1 emblem. Clean, tight and bright.
This is a Luftwaffe Messerschmitt Bf 110 night fighter ace's account of Luftwaffe night fighter operations in WWII.  It was one of the first of its type published in English in 1957 and it has been reprinted many times. His story covers events not only in the air in the night battles over Germany but also of the technological war waged throughout, the decline of the Luftwaffe and the dreadful effect of Allied raids over the Reich.
Wilhelm Johnen KC (1944), NJG1, NJG5, 34 victories, died in 2002
A fascinating and dramatic account of the night air war over Germany 'from the other side' with a beautifully presented collection of scarce signatures. Plus, of course, Richard Taylor's fabulous remarque.
Click any picture to enter gallery…..