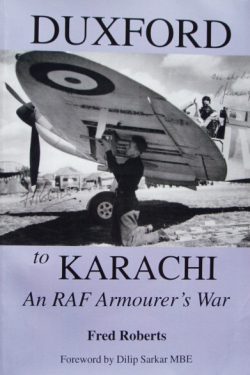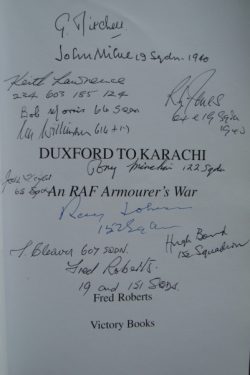 DUXFORD to KARACHI
An RAF Armourer's War
Multi-Signed by Battle of Britain Pilots
Sold
Multi-signed at the Book Launch
Victory Books First Edition 2006.  203 pages including lots of  photos. 
Good condition card cover book. Clean, tight and bright; there are a couple of light creases to the covers.
Signed by Fred Roberts and
 Richard Jones ~ 64/19 Sqns, Battle of Britain
Keith Lawrence ~ 234 Sqn Battle of Britain
Ken Wilkinson ~ 616/19 Sqns, Battle of Britain

Dr Gordon Mitchell, Bob Morris, John Milne,
Tony Minchin, Ray Johnson, +3 
Fred volunteered for the RAF in 1938 and after training was sent to 19 Squadron at Duxford with its newly acquired Spitfires and this is an 'Erk's Eye' view of the Battle of Britain and subsequent RAF operations in various operational theatres. 
He was 'Grumpy' Unwin's armourer, though one of the most famous images of the Battle of Britain shows Fred re-arming 'Jimmy' Jennings' Spitfire at Fowlmere in August 1940 (see front cover).
An interesting perspective on the Battle of Britain with some collectable Battle of Britain signatures from the book launch in 2006.
This item is listed on ACE
To purchase or discuss please contact Spitfire Books