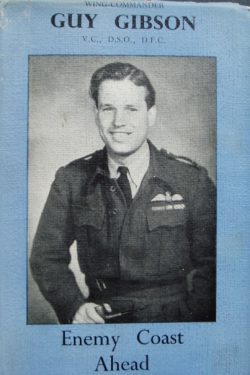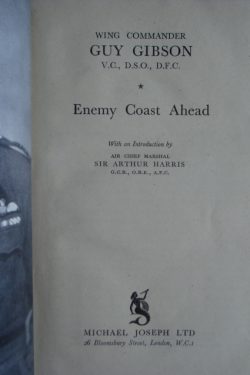 ENEMY COAST AHEAD
By Wing Commander Guy Gibson VC DSO DFC
Michael Joseph First edition, second impression May 1946 (3 months after the first impression).  302 pages.
A Very Good condition hardback book and Very Good condition dustjacket. It is clean, tight and bright with photographic endpapers and no previous owner marks. The original unclipped dustjacket is in remarkably good condition with just the inevitable shelf wear after over 75 years. It is now protected with a clear cover and is a pleasing copy.
Guy Gibson has gone down in history as the leader of possibly the most daring and spectacularly successful exploit of WWII.  This is his autobiography, from his days as a fighter pilot through his various bomber squadron tours and his command of 617 Squadron and the Dams Raid. This book was completed shortly before he flew over the enemy coast for the last time and was published posthumously in 1946.
The Introduction was written by Arthur Harris and there is nothing else to add:
'This is a magnificent story, well and simply told by as great a warrior as these Islands ever bred. It is also History.'
The first edition of this book complete with dustjacket is very hard to find and should be an essential book for every WWII aviation library.