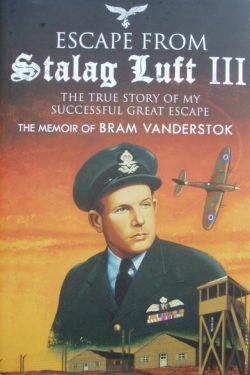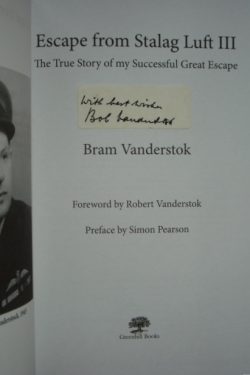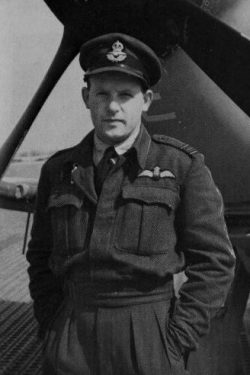 ESCAPE from STALAG LUFT III
Dutch Ace and successful 'Great Escaper'
Signed by Bob Vanderstok
Sold
Label on the title page signed by
Bob Vanderstok
Greenhill Books Revised edition 2019 with new foreword and preface. 264 pages including 30 photographs and illustrations.
Very Fine condition hardback book in a Very Fine condition dustjacket. Practically new and unread. A great copy.  Originally published in the USA as a soft cover book in 1987 with the title 'War Pilot of Orange', this is a long overdue re-publication of this unique memoir.
Bram van der Stok, MBE (1915 – 1993), also known as Bob Vanderstok, was a World War II fighter pilot and flying ace, and is the most decorated aviator in Dutch history. He was one of the three men to successfully break out of imprisonment from the POW camp at Stalag Luft III in what became known as "The Great Escape".
Bob Vanderstok trained as a fighter pilot in 1936 then took up medical studies. Called up in 1939 he escaped from Holland on his fourth attempt, joined the RAF and after conversion training was posted to 41 Squadron flying Spitfires.   In 1942 he was shot down and sent to Stalag Luft III. On the night of 24th March 1944, Bob Vanderstok was number 18 of 76 men who crawled beyond the barbed wire fence of Stalag Luft III. The 1963 film, The Great Escape, chose to loosely base James Coburn's Australian character Sedgewick on Vanderstok. 
His memoir sets down his wartime adventures before being incarcerated in Stalag Luft III and then – with extraordinary detail – describes various escape attempts which culminated with the famous March breakout. After escaping Bram Vanderstok roamed Europe for weeks, passing through Leipzig, Utrecht, Brussels, Paris, Dijon and Madrid, before making it back to England. He reported to the Air Ministry and some three months after escaping was back in the cockpit of a Spitfire.  Initially joining 91 Squadron, in early 1945 he was given command of 322 (Dutch) Squadron.  After the war, he turned down the offer of a military career, resumed his medical studies then emigrated to the USA, practicing as a doctor until his death in 1993.
This is a great WWII aviation/POW memoir for any collection, being particularly enhanced by the very scarce signature of Bob Vanderstok.