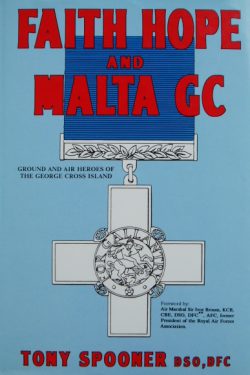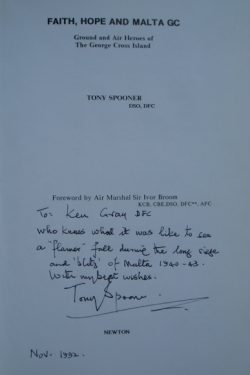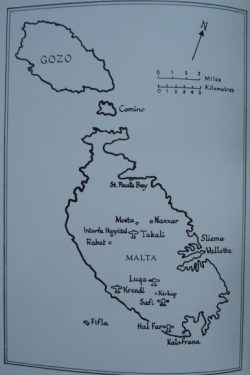 FAITH, HOPE and MALTA GC
Ground & Air Heroes of the George Cross Island
Signed by Wing Commander Tony Spooner DSO DFC
Sold
Inscribed, signed and dated by Tony Spooner on the title page
'To Ken Gray DFC
Who knew what it was like to see a 'flamer' fall during the long siege
and 'blitz' of Malta 1940-43.  With my best wishes
Tony Spooner Nov 1992′
Newton First Edition 1992.  Foreword by Air Marshal Sir Ivor Broom. 166 pages and well illustrated with photos.
Fine condition hardback book in blue boards with gilt titles with a Fine condition dustjacket.  Clean, bright and tight, an excellent copy.
Tony Spooner was an outstanding wartime RAF pilot, serving in Malta (whose expertise was in the location and destruction by night of enemy shipping) and on anti U boat patrols in the Atlantic before embarking on an equally distinguished post-war career as an airline pilot with BOAC .
It is thought that Ken Gray flew Beaufighters with 89 Squadron from Malta between November 1941-December 1942.
This book vividly describes how the fighters, bombers, torpedo and recce aircraft of the RAF and FAA defended Malta and then took the fight to the enemy, triumphantly succeeding with every odd stacked against them.  It also tells the story of how the gallant ground crews made success in the air possible in the face of every adversity.
The accounts of air battles fought by the likes of 'Screwball' Beurling, Warburton, Broom, Gibbs and others are enriched by extracts from diaries kept by aircrews and groundcrews and gives a full picture of the heroism, endurance and sacrifice which earned the island its unique George Cross.
A collectable signed Malta book with a great inscription.