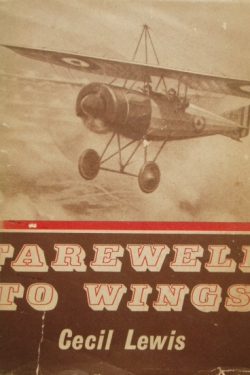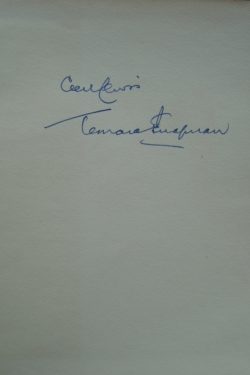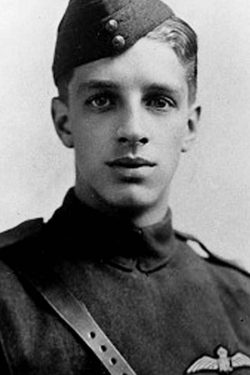 FAREWELL to WINGS
Flying 24 classic WWI aeroplanes
Signed by Captain Cecil Lewis MC
Sold
Signed on the front end paper by
Captain Cecil Lewis MC
& Leonard Bridgman
Temple Press Books First Edition 1964.   Square format measuring 16 x 19 cm. 84 pages and illustrated by Leonard Bridgman.
Very Good condition hardback book in red boards with gold gilt titles. There are some light marks to a couple of the internal pages but otherwise the book is clean and square with a solid binding. The unclipped dustjacket is in Very Good condition with some closed tears and some light rubbing .
Captain Cecil Lewis MC (1898-1997) was an RFC fighter ace who flew with the famed No. 56 Squadron and was credited with destroying eight enemy aircraft. He went on to be a founding executive of the BBC and to enjoy a long career as a writer, notably of the aviation classic Sagittarius Rising, probably the most famous WWI pilot memoir.
Leonard Bridgman (1895–1980), also a WWI pilot, was a British artist and the editor of Jane's All the World's Aircraft from 1941 to 1959. His first assignment in aviation was in 1913 at the age of 18 when one of his drawings was used to illustrate the Hendon Air Race programme. After working as a journalist at The Aeroplane he joined C G Grey in 1923 on the staff of Jane's All the World's Aircraft.
Fifty years after the outbreak of the First World War Cecil Lewis, a scout pilot in the RFC before he was eighteen, looks back on "the sparkling dawn of life in the air and the way those antiques, the aircraft of 1914-18, behaved". Twenty-four now almost legendary aircraft, from highly-manoeuvrable single-seaters like the Sopwith, Spad and the Nieuport Scout to the cumbersomely valiant Vickers Vimy, fly again in memory as the author brilliantly recaptures the spirit of gallantry and carefree enthusiasm in which the youth of his generation—the last to enter the lists of single-handed combat—fought their own battles high in the sky like champions before the eyes of the armies beneath. Leonard Bridgman, himself a pilot of World War I, provides atmospheric drawings in line and wash which perfectly complement the text.
Types featured include the Maurice Farman Longhorn & Shorthorn; BE2c, Avro 504, FE2b, BE12; Bristol Scout & Fighter; Morane Parasol, Biplane & Scout; Martinsyde Elephant; Sopwith Triplane, Camel, Pup & Dolphin; DH4, RE8, Nieuport Scout, Spad, Albatros & Vickers Vimy.
A beautifully evocative book, enhanced by a pair of scarce WWI pilot signatures.