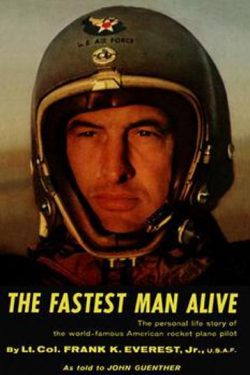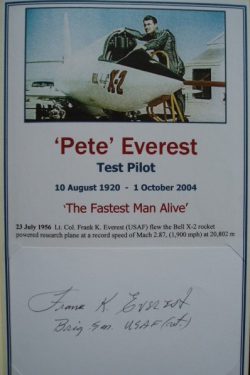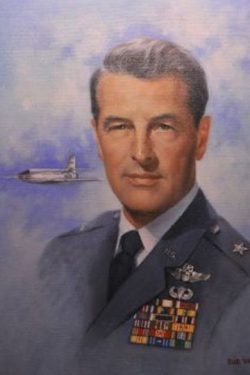 The FASTEST MAN ALIVE
The Story of the world-famous rocket plane pilot
Signed by Lt Col. Frank K Everest
Sold
Unique bookplate double-signed by Frank 'Pete' Everest on the front end paper 
The double signed white card is reversible with
"Frank K Everest, Brig General USAF (ret)" on one side
and "Pete Everest" on the other

Published by Cassell, London. First UK edition 1958.     204 pages and well illustrated with photographs.
A Fine condition hardback book in a Fine condition dustjacket. Clean, bright and tight.  This book is in incredible condition – a stunning copy.
This is the autobiography of one of the best known American test pilots of the early jet and rocket plane era of the late 40's and early 50's. 
Frank "Pete" Everest was born in 1920 and won his wings and commission in 1942. During WWII he served as a fighter pilot in North Africa, Sicily, and Italy where he flew 94 missions and shot down two German aircraft. Later in China, he flew 64 more missions and destroyed four Japanese aircraft before being shot down in 1945 by ground fire and becoming a POW.
After the war in 1946, he began a long series of assignments in Flight Testing at Muroc/Edwards where he tested the X-1 alongside Chuck Yeager and then served as Chief of the Air Force Test Flight Section. In that position, he participated in the flight testing of all early jet aircraft in the Air Force inventory, including bomber and transport aircraft.
He flew 163 different types/models of aircraft. The most spectacular portion of his flight test career was in a group of Bell, Douglas and Northrop X-series experimental rocket-powered aircraft in which he established numerous speed and altitude records.
Everest test-flew the Bell X-1B to a speed of Mach 2.3 in December 1954, making him the second fastest man in the world, Later flights in the Bell X-2 rocket plane established him as "the fastest man alive" when he attained a new unofficial speed record of 1,957 mph or Mach 2.9
His work at Edwards was followed in 1959-1973 with a series of other challenging Air Force staff and command assignments primarily related to fighter aircraft and between 1966-1972, he regularly deployed to Southeast Asia where he flew 32 combat missions in F-4 Phantom, A-1 Skyraider, F-100 Super Sabre, C-141 Starlifter, and HC-130 Hercules aircraft. Everest retired with the rank of Brigadier General in 1973 and passed away in 2004.
This is a lovely book, rarely found in the UK, and in this condition together with a signature would be a superb addition to any aviation book collection.