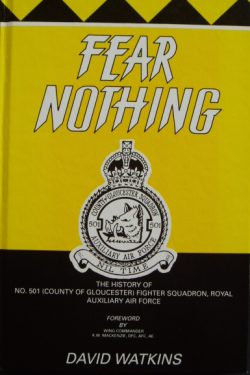 FEAR NOTHING ~ 501 Squadron
The History of 501 (County of Gloucester) Squadron
Newton Publishers First edition 1990.  127 pages and well illustrated with photographs and very useful appendices.
Fine condition hardback book in yellow and black laminated boards as published.  Clean, tight and bright. This is a particularly pleasing copy of this scarce squadron history.
Formed in 1929, No 501 Squadron was the fourteenth of the twenty-one flying units in the Royal Auxiliary Air Force, the volunteer reserve part of the Royal Air Force. The squadron won seven battle honours, flying Hurricane, Spitfire and Tempest fighter aircraft during World War II, and was one of the most heavily engaged units in RAF Fighter Command. In particular, the Squadron saw extensive action during the Battle of France and Battle of Britain and 'Ginger' Lacey was the squadron's top scoring ace.
In his foreword, Wing Commander Ken Mackenzie DFC AFC, one of the Squadron's top aces writes:
This is a very readable book which David Watkins has painstakingly researched to capture the peacetime background, the operational scene and the rigours of war.  Told without drama or sentiment, the courage, tenacity and devotion to duty of No 501 (County of Gloucester) Fighter Squadron, Royal Auxiliary Air Force is preserved and the men and women remembered.  I am proud to have flown and served with them and to be asked to write this foreword.
A very nice copy of this excellent, scarce squadron history, ideal for adding signatures of 501 Squadron Battle of Britain pilots.
This book is listed on ACE
To purchase, please contact Spitfire Books