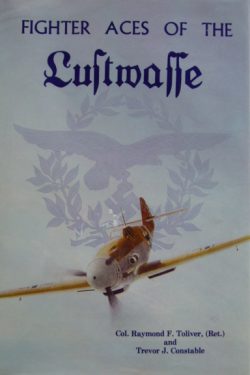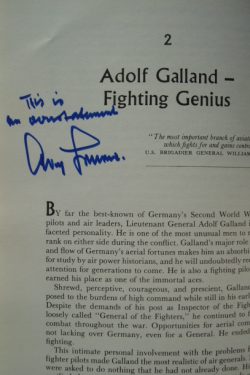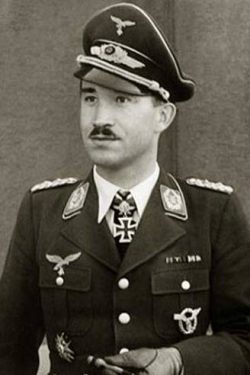 FIGHTER ACES of the LUFTWAFFE
By Toliver & Constable
Multi-signed by Adolf Galland
Sold
Inscribed, signed and dated opposite the half-title page by 
General Adolf Galland
The book is signed by Galland a total of 8 times on various photos in the book (see gallery below)

General Galland wrote the introduction to this book and is the subject of Chapter 2 'Adolf Galland – Fighting Genius'
adjacent to which he has wryly commented "This is an overstatement"


Next to a picture of Erich Hartmann is a tipped in Hartmann signature and laid in to the front
is part of a page from Robert Jackson's book 'Fighter' which has been
signed by Galland and distinguished aces Johannes Steinhoff and Gunther Rall
Aero Publishers Corp. First American edition 1977.  432 pages including lists of aces and glossary. Illustrated with black and white photographs.
Fine condition hardback book in deep blue  covers with gold titles.  The dustjacket is also in Fine condition.  Clean, tight and weighty. A great copy of this important volume.
Fighter Aces of the Luftwaffe is the full story of Germany's fighter pilots in WWII; their smashing victories, their bitter defeats and their betrayal by their country's leaders. Legendary German aces like Galland, Moelders, and Marseille – the Star of Africa – are definitely drawn in colourful word portraits. Erich Hartmann and Gerd Barkhorn, the only two fighter aces in history to down more than 300 enemy planes, also leap out of these pages in accurate sketches.
"Constable and Toliver have spent more than twelve years in the research and writing of this book. They have gained my complete trust and the respect and confidence of all former Luftwaffe pilots who have met them.  They have told the story with accuracy and close attention to technical detail and they have been able to capture the inner spirit of the Luftwaffe Fighter Force to a remarkable degree"  Adolf Galland, General of the Fighter Arm 1941-45
The book is inscribed to Marvin A Krieger (1914-2013) who was a well known animator and photographer. In the late 30's he was private pilot and during WWII served in the Army Air Corps as a flight instructor including training fledgling RAF pilots at the school in Terrell. A lifelong aviation enthusiast, he later worked at The Frontiers of Flight Museum and built models which won awards including one which is in the collection of the National Air and Space Museum in Washington.
This is a book which has become the standard reference on Luftwaffe Aces.  It is a mine of information, but reads like a thriller.  All the top aces are covered, their stories interwoven with the dramatic rise and fall of the Luftwaffe. This book was considered by the surviving Luftwaffe aces to be their monument.
Click a picture to enter the gallery…..