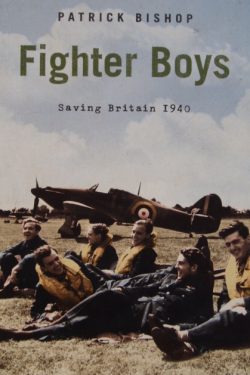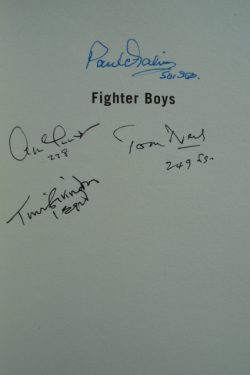 FIGHTER BOYS
Saving Britain 1940
Multi-Signed by Battle of Britain Pilots
Signed by 5 of 'The Few'
Paul Farnes ~ Archie McInnes 
Tom Neil ~ Tim Elkington
+ Signed on the title page by Bob Hughes ~ 23 Squadron
Harper & Collins First edition, first impression 2003.  434 pages plus many pages of photographs.
Fine Condition hardback book in a Fine condition dustjacket. Clean, bright and tight.  A super copy.
A highly acclaimed account of the RAF fighter pilots who fought and won the Battle of Britain. The author looks at the character and motivations of an elite whose members came from a remarkable variety of backgrounds yet fused together to create a new ethos that combined traditional values with the technical ability demanded by aerial warfare.  The result is a unique study of the spirit of these men, carried along on a surging narrative that conveys a real sense of what it was to be a fighter pilot, in war, peace and love.
A very readable Battle of Britain book with plenty of anecdotes and insight enhanced by a neat collection of signatures.