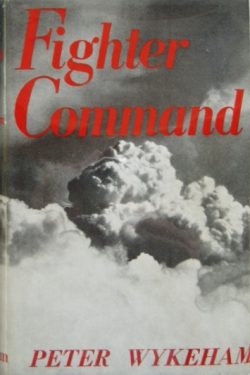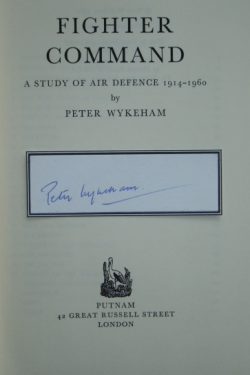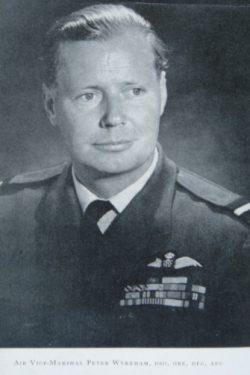 FIGHTER COMMAND
A Study of Air Defence 1914 -1960
Signed by Air Marshal Sir Peter Wykeham
Bookplate signed by
Air Marshal Sir Peter Wykeham KCB DSO* OBE DFC AFC
Published by Putnam.  First edition 1960.  320 pages plus photographs
Fine condition hardback book and dustjacket. Clean, bright and tight.
An early Putnam providing a well-written history of the role of Fighter Command from its formation in 1936. An interesting read, with a personal approach to the text by someone who was closely involved in the events described. Includes very useful appendices showing the disposition of fighter squadrons in 1930, 1936, 1940 and 1946.
Peter Wykeham was an Ace with more than 14 victories,  He fought in the desert with Pat Pattle flying Gloster Gladiators and was the first fighter pilot in North Africa to receive the DFC. He was involved in the defence of Malta & Tobruk and later commanded Typhoon and Mosquito squadrons.  He led two of the attacks on Gestapo HQs in Occupied Europe and received a bar to his DSO for it.  After the war he was a test pilot, flew intruder missions in Korea and ended his very distinguished RAF career as Deputy Chief of the Air Staff.