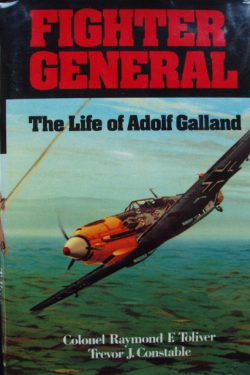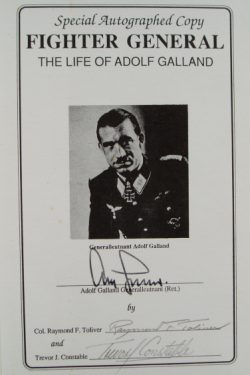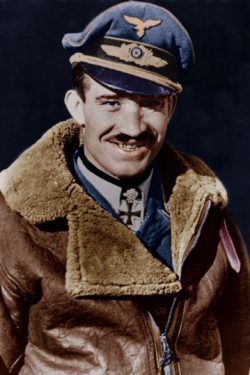 FIGHTER GENERAL
The Life of Adolf Galland
Signed by General Adolf Galland KC
Sold
Special Autographed Copy Bookplate on the front end paper
signed by
Adolf Galland
Colonel Raymond Toliver
Trevor Constable
AmPress Publishing, First edition 1990. 355 pages and well illustrated with photographs.
A Very Good condition hardback book in a Fine condition dustjacket. There is a signed and dated inscription from the author, Raymond Toliver on the half title page.
This is the official biography of Adolf Galland an outstanding fighter leader who was torn from the cockpit to defend his country, and sometimes his own pilots, in the bizarre bureaucracy of the Luftwaffe High Command. His battles against the Allied Air Forces, both as a General and in individual combat are as dramatic as his head-on battles with Goering and Hitler. The most famous German ace and fighter leader of his generation, Galland's story is simultaneously that of the Luftwaffe Fighter Arm, in which he served from foundation to finish.
Galland's combat career began in the Spanish Civil War flying bi-planes and continued from the Polish campaign of 1939 right through to the defeat of Germany in 1945, when he was flying Messerschmitt 262 jet fighters. From the outbreak of hostilities Galland rose quickly in rank and influence, becoming chief of Luftwaffe fighters, a position he lost as a result of difference with Hitler. He then returned to front line flying and ended the war with shrapnel in his knee, his country in ruins and years of POW confinement and interrogation.  After release, he created a jet fighter force for Argentina, became a successful businessman and a goodwill ambassador for Germany's fighter pilots, becoming close friends with many of his former adversaries, most notably Bob Stanford Tuck.
Both authors enjoyed a long friendship with Adolf Galland before writing this biography of a man who became a living legend.