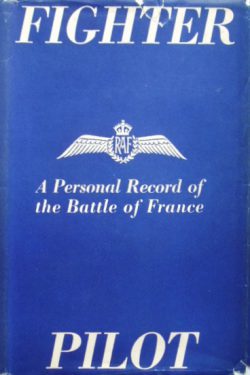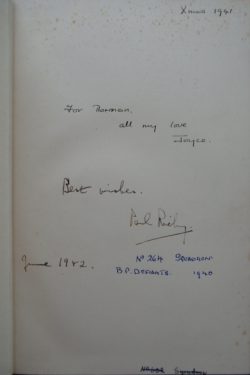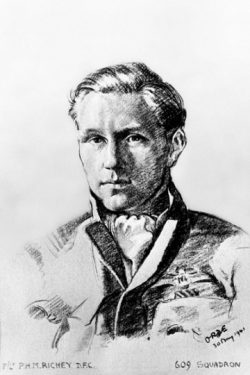 FIGHTER PILOT
A personal record of the campaign in France: Sept 1939 ~ June 1940
Signed by Wing Commander Paul Richey DFC*
Sold
JULY     ~    *BOOK OF THE MONTH*
There are some aviation books that are so rare and highly sought after by collectors
from all over the world that it would be unfair to sell such a book on a 'first come' basis. 
Therefore, each calendar month, Spitfire Books is offering a rare book for sale
and invites collectors to submit a 'best offer' during the month by email or telephone
---
Signed on the front end paper by
Wing Commander Paul Richey DFC*
June 1942
Published by BT Batsford Ltd. First edition, third impression, September 1941. 122 pages and well illustrated with photos.
Very Good condition hardback book.  The book is clean and bright with a very solid square binding.  There is a minimal amount of very light scattered spotting, with the worst area being at the top of the front end paper as can be seen in the photograph. The dustjacket is also in Very Good condition, complete apart from a very small area of loss at the top and tail of the spine (which does not affect the titles) and on the rear panel. There is a small closed tear at the top of the front panel and some edge wear at the corners.  It looks very smart in its protective cover.
Apart from the 'Best wishes, Paul Richey, June 1942', there is some other writing on the page.  At the very top is written 'Xmas 1941' and in the same hand 'For Norman, all my love, Joyce' and again in the same hand at the bottom of the page 'No 602 Squadron'.  This last one has a line through it in blue ink and there is a further writing in the same hand as before which reads 'No 264 Squadron BP Defiants 1940'.  It is possible that the recipient of the book, Norman, was on 264 Squadron in 1940 and then on 602 Squadron in December 1941, maybe as groundcrew.  When this book was signed in June 1942, Paul Richey was at Duxford as Commanding Officer of 609 Typhoon Squadron so perhaps Norman was based there too? Regrettably, the full story of this book will probably never be known. 
'Fighter Pilot' started life as a personal journal kept by Paul Richey from the outbreak of war when he went to France with 1 Squadron in September 1939.  It provided a diversion during the eight months of the 'Sitzkrieg' and was kept up in note form during the 'Blitzkrieg' until Richey's evacuation from France on 13 June 1940.
On his return, he was persuaded to publish it but as his editor recalls "…I had to cajole Paul from his fighter station near London to come up and work with me on the book.  He would meet enemy aircraft in combat during the day and hurry up to London to work on his proofs by night.  I came across the restless spirit of the fighter pilot for the first time, and also, in him to realise the selfless gallantry and sense of adventure that impelled those men.  Fighter Pilot sold 75,000 copies as quickly as we could print them and we could have sold twice as many if it were not for paper restrictions."
 "The first and finest story of a fighter pilot in World War II"
Group Captain Peter Townsend

"I have read no book approaching 'Fighter Pilot' in the vividness of its descriptions of air fighting…..
His story is exhilarating and profoundly moving". Review in the Daily Telegraph
One of the classic aviation memoirs of WWII and wartime signed copies are particularly rare.
Click on any picture to enter gallery……