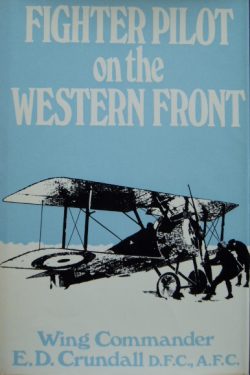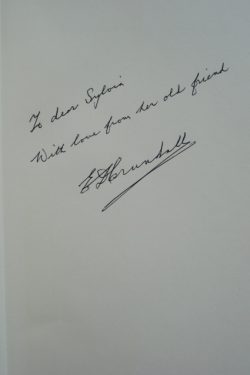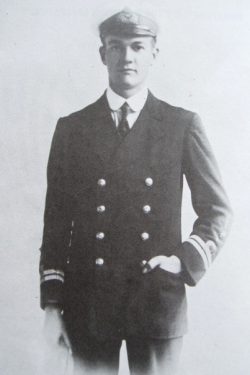 FIGHTER PILOT on the WESTERN FRONT
A Diary of World War One Flying Experiences
Signed by Wing Commander E.D. Crundall DFC AFC
Sold
Inscribed and signed on the front end paper by
Wing Commander Edward D Crundall DFC AFC

William Kimber First edition 1975.  192 pages including more than 50 photographs.
Very Good condition hardback book in a Very Good condition dustjacket.
This diary of WWI experiences had been hidden way and forgotten for more than fifty years. With the assistance of historian Chaz Bowyer it has been turned into an exiting record of day to day life as an RNAS fighter pilot flying patrols in Triplanes and Camels. The author recounts the dog-fights, the victories and the losses, providing a picture of the lives of the intrepid men who fought in the air when both the art of flying and the construction of aircraft were in their infancy.  This is both an exciting personal memoir and a valuable historical chronicle.
Edward Crundall (1896 – 1981)  joined the Royal Naval Air Service in 1914. He gained Royal Aero Club Aviator's Certificate 3543 on a Maurice Farman biplane at Royal Naval Air Station, Eastbourne on 5 September 1916. He was posted to 8 Naval Squadron and in 1917 he scored 3 victories flying the Sopwith Triplane. Wounded in action on 10 May 1917, he was forced to land near Bethune by Alois Heldmann of Jasta 10. On 28 July 1917, he was downed by Adolf von Tutschek. In 1918, Crundall was posted to 210 Squadron as a flight commander and scored 4 more victories flying the Sopwith Camel.
During World War II he re-joined the RAF, serving as the commanding officer of 116 Calibration Squadron and was awarded the Air Force Cross. Crundall continued flying in civilian life, accumulating over 8,500 hours of flight time on charter routes to Africa.
A very scarce signed World War One book for any aviation library.