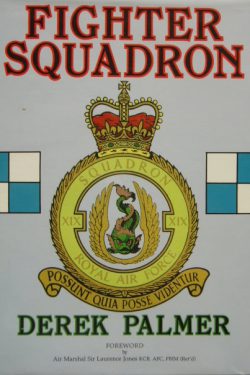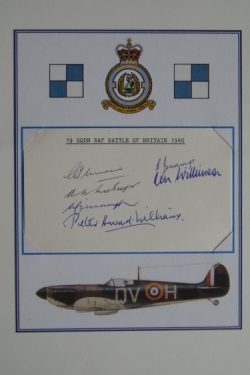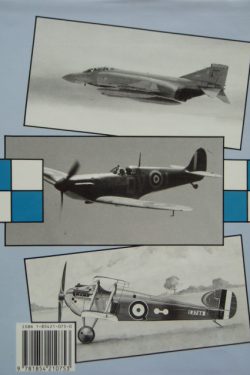 FIGHTER SQUADRON ~ 19 Squadron
The History of 19 (Fighter) Squadron
Signed by Battle of Britain Pilots
Card signed by Six 

19 Squadron Battle of Britain Pilots


mounted on specially designed bookplate (card is removable)
Wg Cdr George Unwin
Wg Cdr Alan MacGregor
Flt Lt Wallace Cunningham
Wg Cdr Peter Howard-Williams
Wg Cdr Bernard Jennings
Flt Lt Ken Wilkinson
Derek Palmer & Self Publishing Association First edition 1991.  384 pages and lavishly illustrated with photographs and very useful appendices.
Fine condition hardback book and dustjacket.  Clean, tight and bright.
Formed in 1915, No 19 Squadron was in the thick of the action in both WWI and WWII.  It was the first RAF Squadron to receive Spitfires in 1938 and was heavily involved at Dunkirk, the Battle of Britain and D-Day.  Post-war the squadron flew Hornets, Meteors, Hunters, Lightnings, Phantoms and Hawks.  This is a fantastic, comprehensive, almost day by day account of the squadron's illustrious history which brings to life the spirit of the squadron.
This is a particularly pleasing copy of this excellent squadron history with a neat collection of 6 signatures of 19 Squadron Battle of Britain pilots on a card which can be removed from the book.