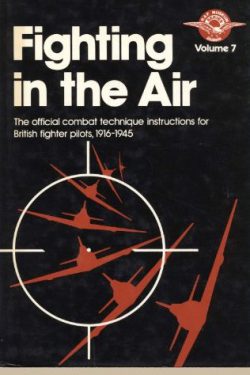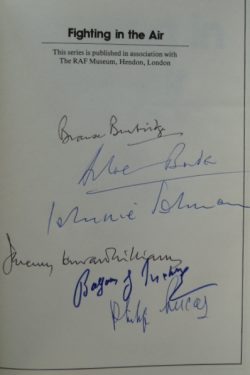 FIGHTING in the AIR
Instructions for British Fighter Pilots 1916 - 1945
Multi-signed
Sold
RAF

Museum

Publication

Multi-Signed by
Wing Commander Branse Burbridge

– Top RAF Night-fighter ace WWII


Group Captain Sir Douglas Bader

– WW2 Ace and Wing Leader




AVM Johnnie Johnson

–

Spitfire Wing Leader & Top RAF ace WWII




Lord Balfour of Inchyre

–

WW1 ace and later a politician




Jeremy Howard Williams

–

Night Fighter pilot 604 Sqn




Philip Lucas GM –

Hawker Chief Test Pilot 1940-46



Arms and Armour Press. First edition 1978.  347 pages and photos.
Fine condition hardback book. Clean bright and tight with a fine DJ. Almost as new.  It comes with the original ticket and programme for the Symposium which accompanied the launch of this book on 4th November 1978.
This book is a compilation of official instructions to pilots on aerial combat techniques from the First World War through to the end of WWII.  It is an authentic and authoritative perspective on the development of aerial warfare over its first 30 years.
Signed at the book launch at the RAF Museum in 1978 by the Symposium Panellists, this is a fascinating book to dip into for those top tips necessary to stay alive in a dog-fight and survive long enough to become an ace.  The scarce signature of Branse Burbridge was added in 2004 on a personal visit to his home making this a unique copy.