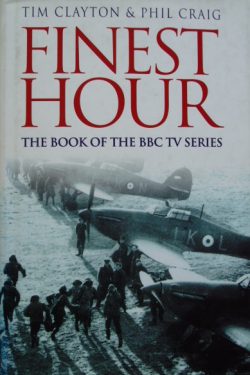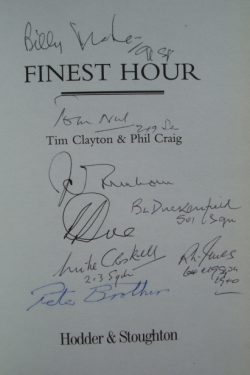 FINEST HOUR
The Story of the Battle of Britain
Signed by 8 of 'The Few'
Signed on the title page by 8 of 'The Few'
Billy Drake, Tom Neil, John Freeborn
Byron Duckenfield, Bob Doe
Mike Croskell, Richard Jones, Pete Brothers

Hodder & Stoughton First edition 1999.   418 pages and well-illustrated with photographs.
Fine condition hardback book in a Fine condition unclipped dustjacket.  The book is clean, bright and tight and there is an additional John Freeborn signature in pencil on the half title page.
Based on the BBC TV series, this is a powerful account of the events of 1940 told through the voices, diaries, letters and memoirs of the men and women who lived, loved, fought and died during that terrible but inspiring year.  A blend of original historical research with the experience of ordinary people in desperate times, this book enables readers to experience something of a time when a nation's darkest hour became its finest.
"From fighter pilots risking their lives in the skies above England, to squaddies stranded at Dunkirk,
to schoolgirls sent abroad to Canada, this is riveting".   SUNDAY EXPRESS
"Manages to construct the tale in such a way that it breaks free of the textbook approach…
Compiled with a pace that could put a lot of thrillers to shame".   TIME OUT
"Compelling….Mesmerising stuff".   SUNDAY TELEGRAPH
A very readable book enhanced by the neat collection of signatures of eight of 'The Few', including some distinguished aces.