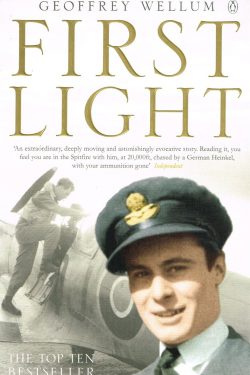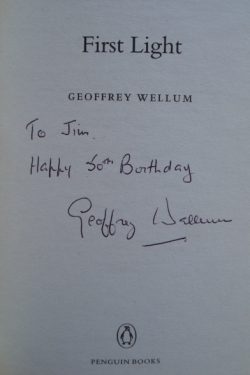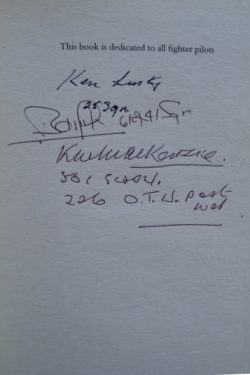 FIRST LIGHT
The True Story of the Boy who became a Man in the War-torn Skies above Britain
Signed by Geoffrey Wellum DFC
Inscribed & signed by Geoffrey Wellum on the title page
& signed by 3 of 'The Few' on the dedication page
Ken Lusty
Cyril Bamberger
Ken MacKenzie
Published by Penguin 2003.  338 pages and well illustrated with photographs.
Fine condition paperback book.  The book is clean and tight having only been opened for signing.
An exceptional autobiography of life in the air in WW2. Geoffrey Wellum's RAF commission came through in 1939 and he was posted to No 92 Squadron, aged just 17 and became one of the youngest participants in the Battle of Britain. In March 1942 he went to No 65 Squadron at Debden, and from there to Malta. Returning to England he became a Typhoon test pilot, and stayed in the RAF after the war as a staff officer.
'An extraordinary, deeply moving and astonishingly evocative story.  Reading it, you feel you are in the Spitfire
with him, at 20,000 feet, chased by a German Heinkel, with your ammunition gone' ~ Independent 
'Vivid, wholly convincing, compelling. One of the best memoirs for years about the experience of flying in war' ~ Max Hastings
'Startlingly vivid recollections… this is the air war at its most intense' ~ The Spectator
'First Light' is a true modern classic and ranks alongside Hillary's 'The Last Enemy' as a testament to 'The Few'.