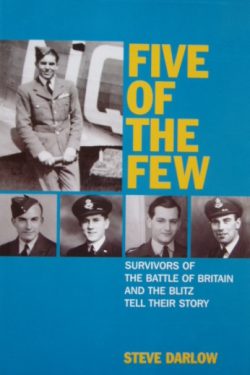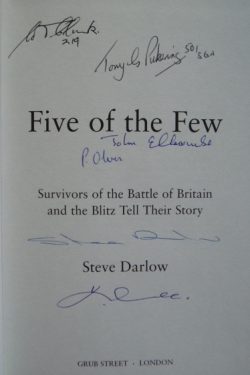 FIVE of THE FEW
Survivors of the Battle of Britain tell their story
Multi-signed by RAF Battle of Britain Aircrew
Sold
Signed by all 'Five of the Few' on the title page
Squadron Leader Ken 'Hawkeye' Lee DFC
Air Cdre  John Ellacombe CB DFC*
Squadron Leader Tony Pickering
Wing Commander Peter Olver DFC
Flight Lieutenant Terry Clark DFM
+ Author Steve Darlow

Grub Street First Edition 2006.  255 pages plus photographs
Fine condition hardback book and dustjacket.  As new and unread.
This book tells the intriguing story of five airmen who earned the right to wear the Battle of Britain clasp with pride. The fascinating accounts of 501 Squadron Hurricane pilots Ken Lee and Tony Pickering, 151 Squadron Hurricane pilot John Ellacombe, 603 Squadron Spitfire pilot Peter Olver, and 219 Squadron Blenheim and Beaufighter radar operator Terry Clark cover the entire Battle of Britain period and the subsequent night Blitz.
Their experiences were varied but their cause was common. The survival of Britain was at stake. They, with the other 'Few' had to stop the Luftwaffe's attempt to prepare the way for a German invasion. The odds were against them, the stakes were high. The risks were immense.
Each man would survive those momentous days in 1940, but there were close calls and they would not all come out of the air battle unscathed. They have extraordinary stories to tell. Promotions, decorations and command responsibilities would come their way. But not all would make it through safely to the end of the war: two of them would end up behind barbed wire.
Collectively this book is a war story of youth maturing, through aspiration and idealism, courage and bravado, fear and heroism, memory and reflection. It is a reminder of why so much was owed, and still is, by so many to so few.
A great signed Battle of Britain book.