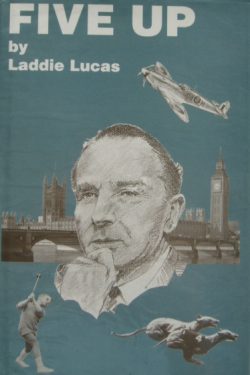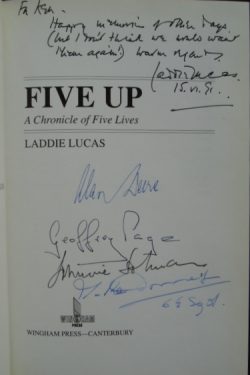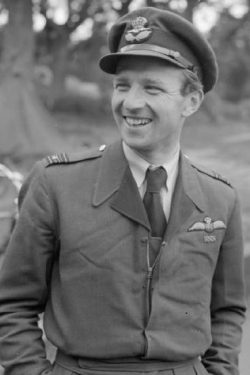 FIVE UP
A Chronicle of Five Lives
Signed by Wing Commander PB 'Laddie' Lucas CBE DSO* DFC
Price: Serious offers invited until 30th June 2019
JUNE ~ *BOOK OF THE MONTH*
There are some aviation books that are so rare and highly sought after by collectors
from all over the world that it would be unfair to sell such a book on a 'first come' basis.
Therefore, each calendar month, Spitfire Books is offering a rare book for sale
and invites collectors to submit a 'best offer' during the month by email or telephone
---
Presentation copy to Flying Officer Ken Dolton, 616 Squadron Spitfire pilot from
Wing Commander Laddie Lucas CBE DSO* DFC
'Happy memories of other days
(but I don't think we would want them again!)
Warm regards, Laddie Lucas 15. vi. 91'
Also signed by didtinguished Spitfire Wing Commanders and Aces
Alan Deere
Geoffrey Page
Johnnie Johnson
Baron Mike Donnet
Wingham Press Revised edition 1991. 270 pages and well illustrated with photographs.
Fine condition hardback book and dustjacket. The book is clean bright and tight.  It looks very smart in its protective cover.  The book comes with a personal letter from Lucas to Ken Dalton with excellent content.
Five lives of distinction and fascination
WWII fighter ace, commanding top scoring 249 Squadron during the Battle of Malta and was later Wing Leader at Coltishall.

Member of Parliament during the Churchill, Eden and Macmillan governments.

Business career as chairman of a public company

Captain of the British Golf Team in 1949

Fleet Street journalist and author
Air Vice-Marshal Johnnie Johnson said: "Laddie was a tremendous fighter pilot and a very good fighter leader. He played golf for England. He has been my friend for 60 years and I do not think I have ever met a finer Englishman. He had all the tremendous qualities of goodness, leadership and character.  Everything Laddie did he did well and people, including me, were so proud to know and be associated with him."
Flying Officer AK Dolton was a Spitfire pilot in Lucas's 616 Squadron at RAF Ibsley in 1943.  He was shot down on 21 January 1944 in a Spitfire VII MB913 YQ-G during a mission to Cambrai when he was unable to change fuel tanks and fell prey to a FW190 of JG26. He baled out over France and spent the rest of the war as a POW.
A unique signed copy of this compelling memoir with an excellent association and collection of signatures.