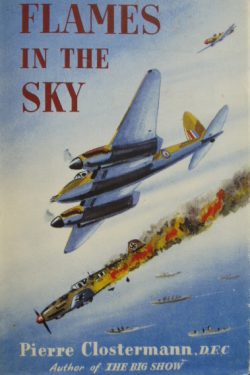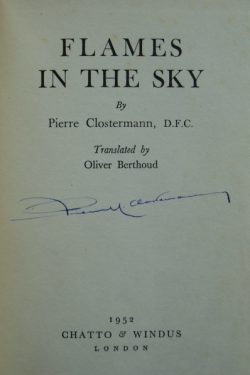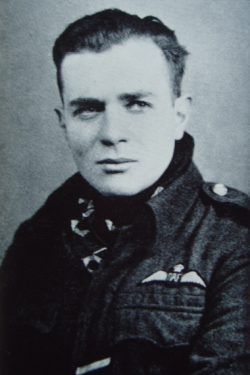 FLAMES in the SKY
By Pierre Clostermann
Signed by Pierre Clostermann DFC*
Signed by

Pierre Clostermann on the title page
Chatto & Windus First edition, first impression 1952. 200 pages and well illustrated with photographs.
A Very Good condition hardback book and Very Good condition, clipped, third impression dustjacket.  The endpapers are lightly tanned but the rest of the book is clean, tight and bright.  Despite being nearly seventy years old this book complete with its vivid dustjacket is a pleasing copy.
Following on from the success of his best selling memoir 'The Big Show', Pierre Clostermann tells the stories of some highly dramatic episodes of the air war.  There are chapters on the Fall of France in 1940, Pearl Harbour, the defence of Malta, the ambush of Admiral Yamamoto, the twilight of the Luftwaffe and he introduces the reader to some outstanding 'dare-devil' characters.
Pierre Clostermann flew Spitfires and Tempests and survived over 420 operational sorties to become one of France's top aces, a politician and her most highly decorated citizen.   
A scarce first edition, first impression copy, flat signed on the title page.