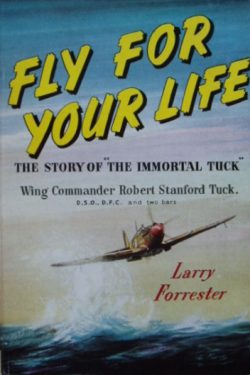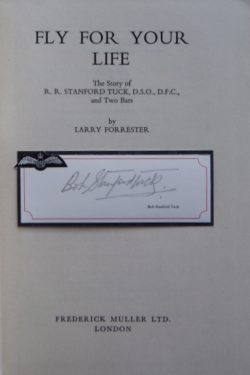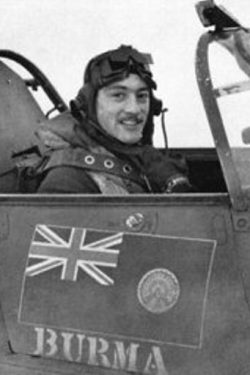 FLY For Your LIFE
The Story of Wing Commander Bob Stanford Tuck DSO DFC**
Signed by Bob Stanford Tuck
Bob Stanford Tuck signature on the title page

Frederick Muller Limited.  First Edition, 2nd impression 1956. 367 pages.  Frontispiece portrait and 30 photos
Fine condition hardback book in blue boards and with bright gilt titles on the spine.  Inside, the text block is tight and clean with no tanning or foxing. There is a Very Good condition unclipped dustjacket with some neat internal strengthening which looks very smart in its protective cover.
From the jacket:  "The story of 'the Immortal Tuck', one of the RAF's top fighter pilots with 29 official victories and more than his share of hairsbreadth escapes.  So phenomenal was his luck that he became a legend". 
One of the classic Battle of Britain books and this is a particularly nice copy with a neat Bob Stanford Tuck signature.