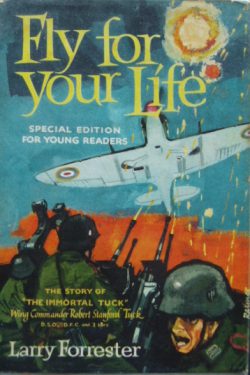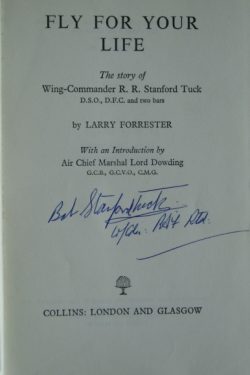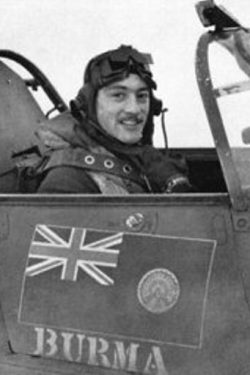 FLY For Your LIFE
The Story of Wing Commander Bob Stanford Tuck DSO DFC**
Signed by Bob Stanford Tuck
Price: Serious Offers invited until 31st August 2019
AUGUST     ~    *BOOK OF THE MONTH*
There are some aviation books that are so rare and highly sought after by collectors
from all over the world that it would be unfair to sell such a book on a 'first come' basis. 
Therefore, each calendar month, Spitfire Books is offering a rare book for sale
and invites collectors to submit a 'best offer' during the month by email or telephone
---
Signed on the title page in blue ink
Bob Stanford Tuck, W/Cdr, RAF Rtd

 
Collins special edition for young readers, 1964, with a new foreword by Air Chief Marshal Lord Dowding. 319 pages. Frontispiece portrait and photos.
Very Good condition hardback book in grey boards.  The book is clean, tight and bright.  Very Good condition dustjacket in a protective cover.
Collins produced 3 books in this series; 'Fly For Your Life', 'Reach For The Sky' and 'The Wooden Horse'  introducing a generation of young men to the heroics of  RAF pilots during WWII.  Whilst lightly edited and abridged, these books were essentially the same as the original editions and became extremely popular  inspiring many young men to seek a career in the RAF … myself included!
With 29 victories, eight probables and six damaged, Bob Stanford Tuck was one of the greatest fighter aces of WWII though his combat career only lasted 18 months from Dunkirk to January 1942 when he was shot down by ground fire in northern France.  Imprisoned in Stalag Luft III, he escaped eastwards, because he was a Russian speaker, and joined the advancing Soviet troops.
This is the authentic, enthralling tale of a man who deservedly became a hero and had more than his share of hairsbreadth escapes. He survived two mid-air collisions, baled out four times, crash landed several times and ditched in the channel; on various occasions enemy fire set his aircraft ablaze, shattered his windscreen, blew the throttle lever out of his hand and flipped the oxygen mask off his face. So phenomenal was his luck that he became known as 'The immortal Tuck'. 
In his new foreword, Lord Dowding writes: "There are two very great lessons for young people to learn from this book.  The first is the mastery of fear and the second is the art of leadership…….throughout the book Tuck's indomitable spirit runs like a flame – a shining example to his countrymen for all time."
One of the classic Battle of Britain books and a neatly signed copy is scarce in any edition.  A great addition to any aviation book collection.