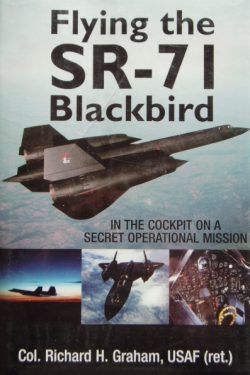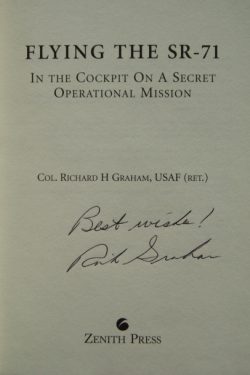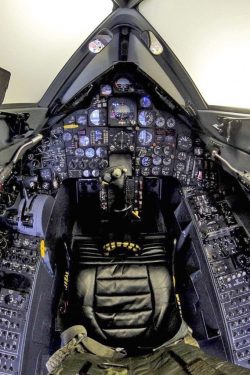 FLYING the SR-71 Blackbird
In the cockpit on a secret operational mission
Signed by Colonel Richard H. Graham
Signed by Colonel Richard Graham on the title page
Zenith Press First edition 2008. 288 pages and well illustrated with diagrams and photographs, some in colour.
Fine condition hardback book in black boards with gilt titles and a Fine condition dustjacket. As new.
For anyone who has ever wondered what it's like to fly the SR-71 on a secret Mach 3 reconnaissance mission, this book has the answer.  Flying the SR-71 Blackbird details what an SR-71 mission entailed, from planning to donning a pressure suit, to accelerating to Mach 3 and climbing to 80,000 feet before returning to base. The book even contains a reproduction of the SR-71 Pilot's Checklist.
The Lockheed SR-71, unofficially known as the Blackbird, was an advanced, long-range, Mach 3 strategic reconnaissance aircraft developed by Lockheed Skunk Works. The aircraft flew so fast and high that not one was ever shot down, even by a missile. SR-71 pilot and instructor Colonel Richard Graham offers a rare cockpit perspective on how regular Air Force pilots and navigators transformed themselves into SR-71 Blackbird crews.  Arguably the world's foremost expert on piloting the Blackbird with 765 logged hours, Graham takes readers along on an operational mission that only a few Air Force pilots have ever experienced.
A fascinating read about an incredible aircraft!
This book is listed on ACE.  To purchase, contact Spitfire Books