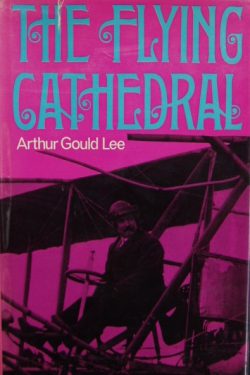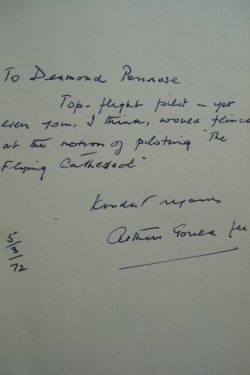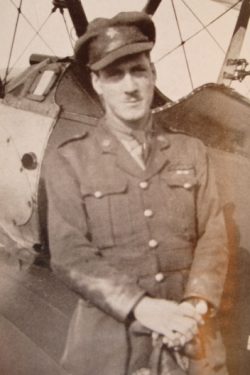 The FLYING CATHEDRAL
Samuel Franklin Cody ~ Cowboy, Bronco-buster, Sharpshooter, Showman, Inventor & Pioneer British Aviator
Signed by Air Vice-Marshal Arthur Gould Lee MC
Signed and dated by Arthur Gould Lee on the front end paper
To Desmond Penrose
Top-flight pilot ~ yet even you, I think, would flinch
at the notion of piloting 'The Flying Cathedral'
Kindest regards
Arthur Gould Lee  5/8/72
Methuen & Co. Ltd. First edition 1965. 272 pages and well illustrated with photographs.
Fine condition hardback book and dustjacket. Clean, tight and bright.  The book is inscribed to Desmond Penrose, the de Havilland and Shuttleworth test pilot and he has placed his personal bookplate on the half title page.
In October 1908, Samuel Franklin Cody became the first man to build and fly an aeroplane in Britain.  This is his story.
A flamboyant Texan, raised as a cowboy and showman, he toured Europe with his wild west shows until he settled in Britain and turned to building and flying man-carrying kites and then aeroplanes.  Colonel Cody was a larger than life figure with his long hair, goatee beard, frock coat, white stallion, spurs and ten-gallon hat but he was an inventive genius and following his first flight he constructed his legendary 'Flying Cathedral', the largest plane in existence on which he flew a 40 mile cross country, a world record.  A British subject now, he built a succession of these big biplanes on which he went onto further success, winning Government Military Trials competing against the world's greatest aircraft constructors and pilots.  He made his final dramatic exit in a ceremonial military funeral witnessed by 50,000 people after being killed in an air crash in 1913.
Thanks to a broken leg during training, Arthur Stanley Gould Lee gained valuable additional time flying trainers before he was posted to 46 Squadron in France during World War I. In November 1917 during low level bombing and strafing attacks, he was shot down three times by ground fire. He spent eight months at the front and accumulated 222 hours of flight time in Sopwith Pups and Camels during a staggering 118 patrols; being engaged in combat 56 times and scoring 11 victories. He lived to retire from the RAF as an Air Vice-Marshal in 1946 and wrote several books on his WW1 experiences as well as other books such as this. 
A fascinating pioneer aviation book with a nice association and signature.