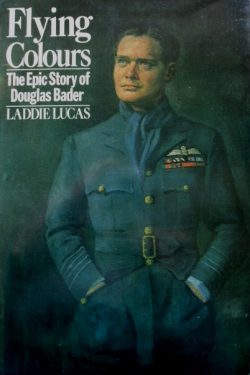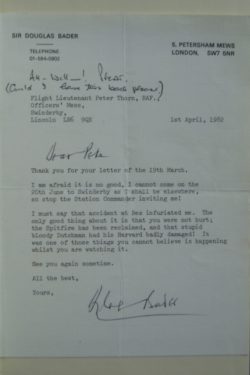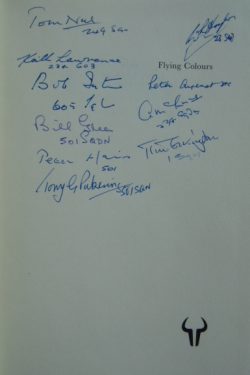 FLYING COLOURS
The Epic Story of Douglas Bader
Signed by Douglas Bader
Letter from Douglas Bader on his personal stationary
dated 1/4/82 to a BBMF Spitfire Pilot
Signed on the half title page by 10 Battle of Britain pilots
Peter Ayerst, Tim Elkington, Bob Foster, Bill Green, Peter Hairs,
Bob Hughes, Keith Lawrence, Archie McInnes, Tom Neil, Tony Pickering
Hutchinson First edition reprint 1981.  303 pages and well-illustrated with photos.
Fine condition hardback book in green boards and a Fine condition, unclipped dustjacket. The letter is laid onto the front end paper.
The letter is addressed to Flt Lt Peter Thorn who was a Battle of Britain Memorial Flight Pilot in the late 70s and early 80s.  The content is interesting because it refers to an accident in 1978 at Bex in Switzerland in which Pete, in Spitfire V AB910, had just started his take off run when he collided head on with a North American Harvard which had entered the runway without ATC clearance. The Harvard was pushed back 50 yards, there was no fire, and all the aircrew escaped the crash with the only injury being a broken leg suffered by the Harvard pilot.  The Harvard was written off and the Spitfire was recovered to RAF Abingdon for extensive repairs, being returned to the BBMF at RAF Coningsby in October 1981. 
From his remarks, it seems that Sir Douglas was a witness to the accident and characteristically is in no doubt who was at fault; 'that stupid bloody Dutchman….'
In this intimate and lively biography – authorised by Bader and supplemented by his private papers, flying logbooks, personal notes and photographs, Laddie Lucas reviews the extraordinary life of one of England's greatest legends. There has never been a life quite like Bader's and the author is uniquely placed to tell his story. Lucas was also a distinguished RAF fighter pilot in WWII, was related to Bader by marriage and has an unrivalled fund of personal, untold stories about him.
A smart copy of this classic book which has a neat collection of Battle of Britain signatures and a very collectable Bader signed letter.