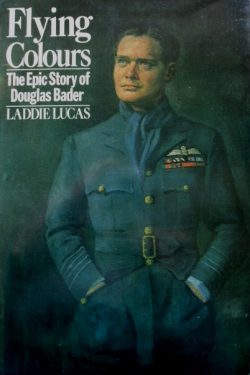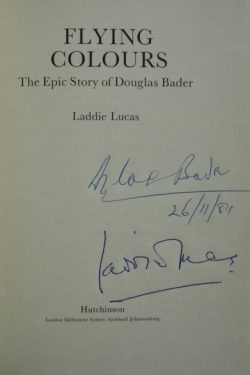 FLYING COLOURS
The Epic Story of Douglas Bader
Signed by Douglas Bader & Laddie Lucas
Sold
Signed and dated by Douglas Bader and Laddie Lucas
Hutchinson First edition, second impression November 1981.  303 pages and well illustrated with photos.
A Fine condition hardback book in green boards with silver gilt titles. The unclipped dustjacket is also in Fine condition. 
"In this intimate and lively biography – authorised by Bader and supplemented by his private papers, flying log books, personal notes and photographs, Laddie Lucas reviews the extraordinary life of one of England's greatest legends. There has never been a life quite like Bader's and the author is uniquely placed to tell his story. He was also a distinguished RAF fighter pilot in WWII, he is related to Bader by marriage and has an unrivalled fund of personal, untold stories about him".
A very smart flat signed copy of this classic book.