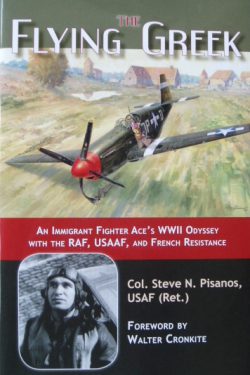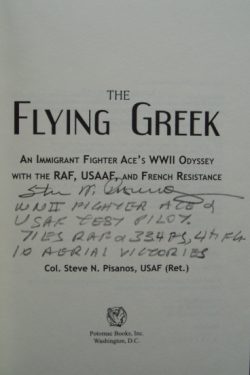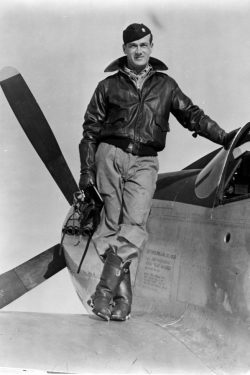 The FLYING GREEK
A Fighter Ace's Odyssey with the RAF, USAAF and French Resistance
Signed by Colonel Steve Pisanos
Signed by Steve Pisanos in pencil on the title page
WWII Fighter Ace
USAF Test Pilot
71 Eagle Squadron RAF & 334 Fighter Squadron, 4th Fighter Group
10 Aerial victories
Potomac Books First edition 2008. 349 pages and well illustrated with photographs
Mint condition hardback book and dustjacket. New and unread.
'The Flying Greek' is both the classic tale of an immigrant's bond with America and an aerial adventure. When young Pisanos arrived in the US in 1938, he worked, studied English, and learned to fly. He earned a private pilot's licence and soon after Germany invaded Greece, he volunteered for the embattled Royal Air Force. After training he flew P-51A Mustangs and Spitfire Vs with 268 and 71 (Eagle) Squadrons.
 In 1942, he became a naturalized US citizen while in London becoming the first individual in American history to become a citizen while outside the US border and his citizenship allowed him to be commissioned a second lieutenant in the USAAF.  In riveting detail, Pisanos recounts his combat record, from fighter sweeps and bomber escort missions to dogfighting, flying the Spitfire, the P-47, the P-51 and by January 1944 he had become an ace.
After his tenth victory, he crash-landed his P-51 in France and spent six months with the French Resistance, successfully evading capture. Because of his exposure to the French operations, the Air Force could not risk his capture again, so he returned to the U S and became a test pilot at Wright Field where he also attended the Air Forces test pilot school. After a brief postwar stint with TWA, he rejoined the Air Force and undertook several commands including tours in Vietnam, finally retiring in 1973.
Steve Pisanos died in 2016 and Jim Kidrick, President of the San Diego Air & Space Museum said "Steve Pisanos was a true hero who had a deep love of America and what it stood for – opportunity for everyone and achieving the greater good….He is a prime example of America's Greatest Generation – willing to make the ultimate sacrifice to fly and fight for his adopted country'.
This is a fascinating, readable story of a unique life, beautifully signed.
This item is listed on ACE
To purchase or discuss, please contact Spitfire Books