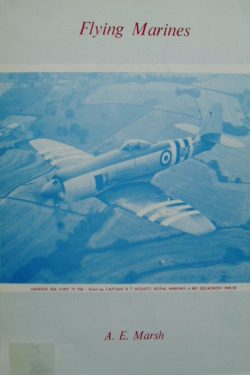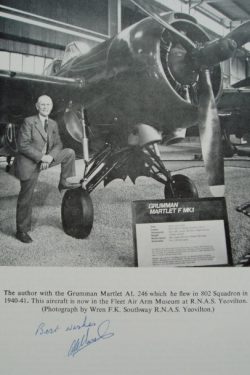 FLYING MARINES
A Record of Royal Marine Fixed-Wing Aviators
Signed by Major Alan Marsh ~Battle of Britain
Sold
Signed by Major Alan Marsh RM
804 Squadron Battle of Britain
Royal Marines Museum Portsmouth, First Edition 1980.  100+ pages including photographs and appendices.
Very Good condition A4 size cardcover book. Clean, tight and bright. The only mark is a small patch on the front cover.  The author has signed under his frontispiece portrait. A pleasing copy of a very scarce signed book.
Alan Marsh was one of only 4 Royal Marine aviators to be awarded the Battle of Britain clasp for his service flying Sea Gladiators in 1940.  He joined 802 Squadron flying Martlets from HMS Audacity and later commanded 804 Squadron on HMS Furious on the Pedestal Convoy to Malta before going onto further commands on other carriers.
This book is a history of Royal Marine Aviation from the inception of Service Aviation in 1911 until the early 1970s when Royal Marine fixed-wing flying ended.  As far as is possible, the author has produced a service record on each aviator and this book charts many very distinguished careers.
An unusual addition to a Battle of Britain signed book collection or Royal Marine library.