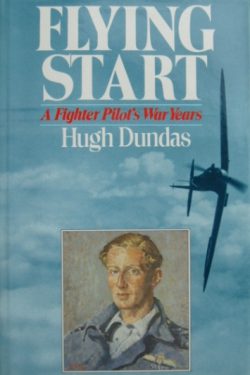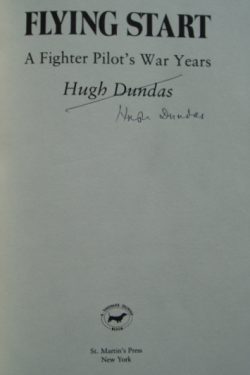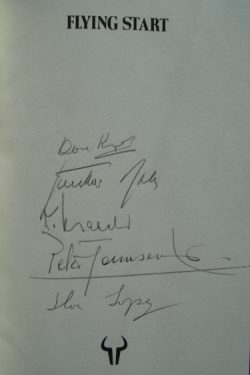 FLYING START
A Fighter Pilot's War Years
Multi-Signed by Battle of Britain Aces
Signed on the title page by Group Captain Sir Hugh Dundas
Signed in pencil on the half title page by Battle of Britain pilots
Wing Commander Don Kingaby
Generalleutenant Gunther Rall
Generalmajor Dieter Hrabak
Group Captain Peter Townsend
+
Colonel Don Lopez
This book was signed at a Symposium in the USA, in March 1990, organised by Virginia Bader Fine Art
to mark the 50th Anniversary of the Battle of Britain. The event was moderated by Colonel Lopez who was
a Director of the National Air & Space Museum having been a Flying Tiger Ace and post-war test pilot.
A flyer for the event, with biographies of the aces, is included with this book. 
St Martin's Press First US Edition, 1st printing 1989.  180 pages and 16 pages of photographs.
Fine condition hardback book in black boards with a Fine condition dustjacket. Clean, bright and tight. A superb copy.  The US edition is practically identical to the British Stanley Paul edition except that it is made with higher quality paper which means it does not suffer from the browning that affects most Stanley Paul copies.
Hugh 'Cocky' Dundas was a Battle of Britain fighter ace.  He was Douglas Bader's wingman, led a Spitfire wing in the invasions of Sicily and Tunisia and became the youngest ever Group Captain in the RAF at the age of 24.  After a distinguished post war business career he was knighted in 1987 and died in 1995.
A superb Battle of Britain memoir with an excellent collection of distinguished ace signatures.