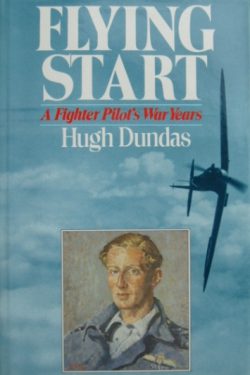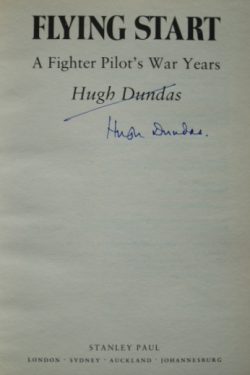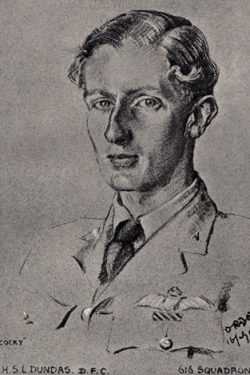 FLYING START
By Group Captain Sir Hugh Dundas CBE DSO DFC
Signed by Sir Hugh Dundas
Sold
Signed by Sir Hugh Dundas 0n the title page
Inscribed & signed by Sir Hugh Dundas on the front end paper
Plus two handwritten and fully signed letters from Sir Hugh concerning the book and other matters  
Stanley Paul First Edition reprint 1989.  180 pages and 16 pages of photographs.
Fine condition hardback book in blue boards with a Fine condition dustjacket. It has the usual light tanning to the pages which is characteristic of this edition of the book due to the paper used, but in all other respects it is a super copy and feels unread..
Hugh 'Cocky' Dundas was a Battle of Britain fighter ace.  He was Douglas Bader's wingman, led a Spitfire wing in the invasions of Sicily and Tunisia and became the youngest ever Group Captain in the RAF at the age of 24.  After a distinguished post war business career he was knighted in 1987 and died in 1995.
A superb Battle of Britain memoir with two excellent Dundas signatures and with provenance in the accompanying letters.