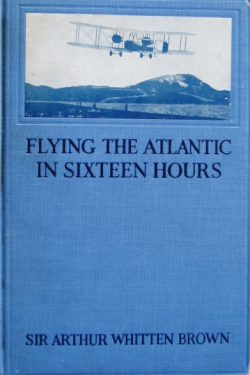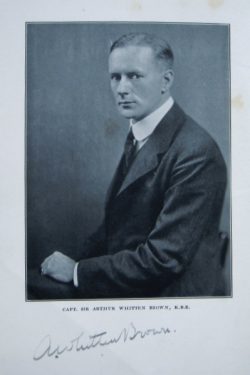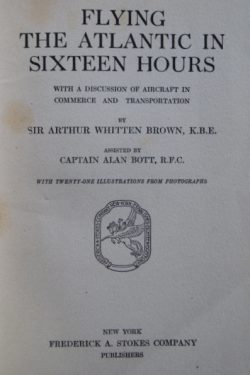 FLYING the ATLANTIC in SIXTEEN HOURS
The first non-stop Transatlantic flight in June 1919
Signed by Sir Arthur Whitten Brown KBE
Sold
Flying the Atlantic in Sixteen Hours
Signed on his frontispiece portrait by S

ir Arthur Whitten Brown KBE
Frederick A Stokes First Edition 1920.  178 pages with 21 photographs 
A Very Good condition hardback book in light blue cloth covers with dark lettering to the spine and front with a photograph of the Vickers Vimy pasted to the front (as published without dustjacket).  There is a neat former owner signature to the half title dated 18th October 1921.  The author's signature is in ink to the frontis portrait.  There is a faint crease across the lower left part of the portrait and a few subsequent pages.  There is a little scattered foxing on a couple of pages but otherwise it is a clean and tight copy with a very secure binding.
British aviators John Alcock and Arthur Brown made the first non-stop transatlantic flight in June 1919. The flight from St. John's, Newfoundland to Clifden, Connemara, Ireland took place on 14 June 1919. They departed St John's at 1.45 pm local time, and landed in Derrygimla bog 16 hours and 12 minutes later after flying 1,980 miles. The flight was made in a modified Vickers Vimy bomber, and won a £10,000 prize offered by London's Daily Mail newspaper for the first non-stop flight across the Atlantic. A few days after the flight both Brown and Alcock were honoured with a reception at Windsor Castle during which King George V invested them with their insignia as Knights Commanders of the Order of the British Empire.
On 18 December 1919, Alcock was piloting a new Vickers amphibious aircraft, the Vickers Viking, to the first post-war aeronautical exhibition in Paris when he crashed in fog at Cottévrard, near Rouen in Normandy and was killed. The next year Arthur Brown wrote "Flying the Atlantic in Sixteen Hours", which was published in 1920 in instalments in the British magazine Royal Air Force and Civil Aviation Record and then published as a book in America by Frederick Stokes. The book was never published in the UK so this is the only edition and as such is exceptionally scarce.
Arthur Whitten Brown was born in 1886 in Glasgow to American parents. In 1914, he enlisted in the University and Public Schools Brigade for which he had to take out British citizenship. He was commissioned and after service in France, Brown was seconded to 2 Squadron Royal Flying Corps as an observer.
Brown's aircraft was shot down by anti-aircraft fire over while on artillery observation duties. He was sent back to England to recuperate but returned only to be shot down again, this time with a punctured fuel tank, near Bapaume in B.E.2c on a reconnaissance flight on 10 November 1915. Brown and his pilot were captured by the Germans and became POWs. After the war Brown sought various appointments and one of the firms he approached was Vickers, a consequence of which was that he was asked if he would be the navigator for the proposed transatlantic flight, partnering John Alcock, who had already been chosen as pilot.
During World War II Brown served in the Home Guard as a Lieutenant-Colonel before resigning his commission in July 1941, re-joining the RAF and working in RAF Training Command as a pilot officer dealing with navigation. With deteriorating health, he died in 1948 aged 62.
An exceptional, scarce and historic century old signed aviation book.