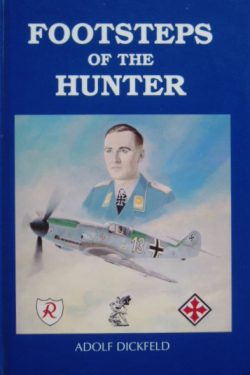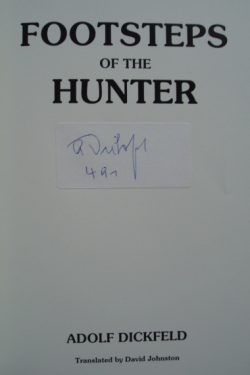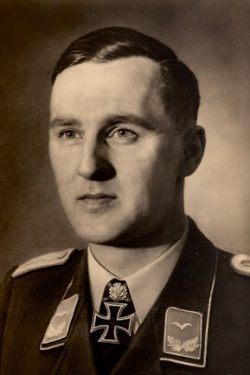 FOOTSTEPS of the HUNTER
The autobiography of a 136 victory Luftwaffe ace
Signed by Oberst Adolf Dickfeld KC
Label signed by Adolf Dickfeld on the title page
Published by JJ Fedorowicz in the USA. First edition 1993.   206 pages, 49 photographs with 2 in colour.
Very Fine condition hardback book with laminated pictorial boards as issued. Clean, bright and crisp. As new.
Adolf Dickfeld does not hold back and tells his story like it really was. He served with JG 2, JG 11 and JG 52 on the Channel during the Battle of Britain, in the Balkans, Russia, Africa and in the Defence of Germany.
Dickfeld became a well-known fighter pilot because of his numerous victories achieved in a short period of time. In 1942 he scored an amazing series of victories (11 on the 8th of May, 9 on the 14th and 10 on the 18th) which resulted in the awarding of the Knight's Cross with Oak Leaves.
Finally Dickfeld was charged by Göring with the formation of a fighter unit equipped with the Heinkel He 162 "Volksjäger" jet fighter. He flew a number of sorties in the He 162, scoring one victory.
During the Second World War Adolf Dickfeld flew a total of 1,072 combat missions and claimed 151 victories, of which 136 were confirmed.  He died in Germany in 2009.
A gripping read and a scarce signed Luftwaffe memoir.