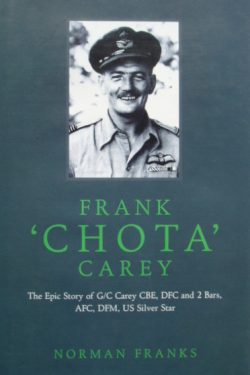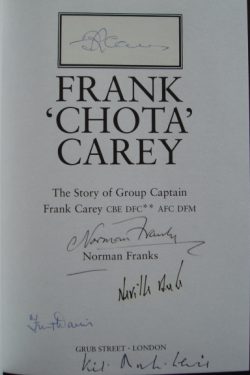 FRANK 'Chota' CAREY
The story of Group Captain Frank Carey's RAF career
Multi-signed
Sold
Signed on the Title Page by
Neville Duke ~ ace and test pilot
FWT 'Bill' Davis ~ flew with Carey in Burma
Air Cdre Kit North-Lewis DSO DFC
Norman Franks


+




Bookplate signed by


Group Captain Frank Carey CBE DFC** AFC DFM

Grub Street First Edition 2006.191 pages and well illustrated with photos.
Mint condition hardback book in green boards with a Mint condition dustjacket. As new and unread.  Comes with a small photo of Frank Carey (which came from him) which is inscribed on the back in Carey's own handwriting 'India/Burma border 1943'.  
From an Sergeant Pilot in the pre-war RAF, through the Battles of France, Britain and then eastwards to Burma, Frank Carey was an exceptional fighter pilot, credited with 25 victories, including 14 German aircraft in four days over the Pas de Calais in May 1940. His tally against the Japanese, where he was often outnumbered five to one, is recorded as 7, but with the Allied armies in retreat and records lost, many who fought alongside him felt he had destroyed considerably more, taking his final score to over 30.  
This biography was published 2 years after Carey died but the author knew Carey and was given full access to private papers, log books and archives including a short autobiography that Carey wrote himself back in the 1960s. This long over due biography is a warm tribute to one of the RAF's top aces of WWII.
A smart signed biography for the battle of Britain bookshelf.