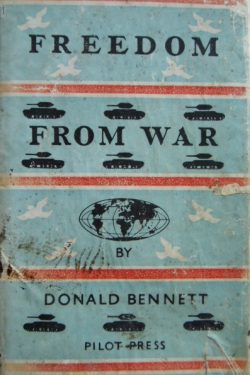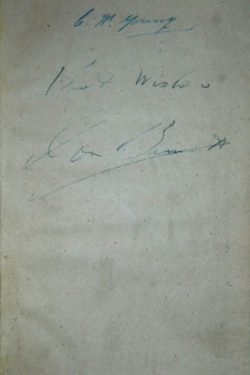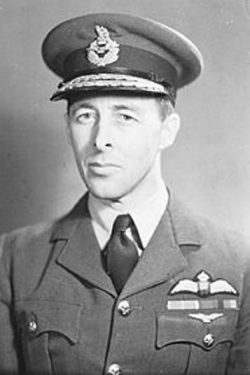 FREEDOM from WAR
Signed by Air Vice-Marshal Donald Bennett CB CBE DSO
Sold
Signed by Air Vice-Marshal Don Bennett on the front end paper
Pilot Press first edition January 1945.  90 pages with photographic plates.  Size approx. 17 x 11 cm.
Good condition hardback book in a complete, Good condition dustjacket.  Both the boards and jacket are a bit grubby but the contents are very clean.  The book itself is very scarce and a signed copy is doubly so.
Air Vice-Marshal Don Bennett was one of the most outstanding figures of World War II and the creator and leader of the legendary Pathfinder Force of 8 Group. Almost every RAF Main Force attack was led by the Pathfinders. By the end of the war Don Bennett was commanding a total of 19 squadrons of the Pathfinder Force and was revered by his crews.
Before the end of the war, Bennett had become convinced that war must be prevented in future and that it could be prevented by the plan he outlines for a Supreme World Congress and an International Law Force.  After sketching the opinions and views of the leading statesmen and of the 'man in the street', he elaborates his plan in detail.  Written with burning conviction born of his own experience in war, its horror and futility, this little booklet was his attempt to influence the future but brought upon him the wrath of the Chief of the Air Staff, Portal, who tried to dissuade him from publication, an episode he describes in his subsequent autobiography 'Pathfinder'. 
This is a very collectable book with a period signature and makes a useful companion to 'Pathfinder' for anyone with an interest in Bennett.