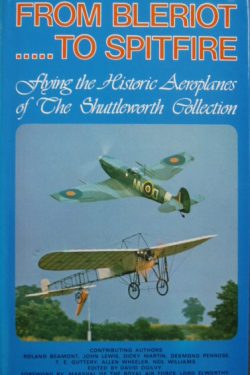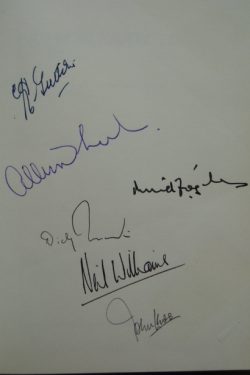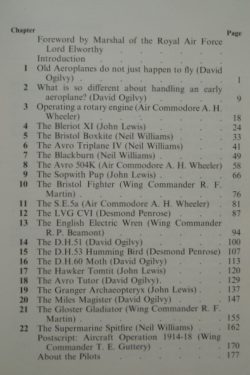 From BLERIOT….To SPITFIRE
Flying the Historic Aeroplanes of the Shuttleworth Collection
Multi-Signed by Test Pilots
Sold
SEPTEMBER     ~    *BOOK OF THE MONTH*
There are some aviation books that are so rare and highly sought after by collectors
from all over the world that it would be unfair to sell such a book on a 'first come' basis. 
Therefore, each calendar month, Spitfire Books is offering a rare book for sale
and invites collectors to submit a 'best offer' during the month by email or telephone
---
Signed on the front end paper by 6 Shuttleworth pilots
who are contributing authors
Wg Cdr Thomas Guttery MBE ~ WW1 pilot & test pilot
Air Cdre Allen Wheeler ~ WW2 test pilot & CO RAE Farnborough
David Ogilvy ~ Mosquito pilot & Shuttleworth Collection Manager
Wg Cdr RF 'Dicky' Martin OBE DFC* ~ Battle of France & Gloster Chief Test Pilot
Neil Williams ~ RAF test pilot & aerobatic champion
John Lewis ~ RAF test pilot & Rolls-Royce Chief Test Pilot
Published by Airlife. First edition 1977.  180 pages and well illustrated with photographs. Foreword by MRAF Lord Elworthy.
Fine condition hardback book and Fine condition unclipped dustjacket.
The Shuttleworth Collection is home to an amazing collection of airworthy vintage aeroplanes which regularly give flying displays. The Collection's historic aircraft are only flown by a carefully chosen group of highly qualified and experienced test pilots. This book describes the flying characteristics of various Shuttleworth aeroplanes and the book is arranged in such a way that it plots the course of aircraft flight and control characteristics from 1909-1939. 
The contributors are all test pilots from a variety of backgrounds and are able to write authoritatively on the relative handling characteristics and as many of the aircraft are sole survivors of their type, many of the chapters will stand in history as the definitive reports on some famous planes. Dicky Martin was a Hurricane pilot with 79 Squadron in the Battle of France and became well known as 'The Prisoner of Luxembourg' before having a remarkable RAF and test piloting career.  Neil Williams was an outstanding RAF pilot and aerobatic champion before he tragically was killed ferrying a Spanish He 111 in 1977, shortly after this book was published. He will be remembered for his remarkable recovery of a Zlin when the wing folded on him in flight, a feat which resulted in the award of the Queen's Commendation. Biographies of all the contributors are included in the book.
This is a fascinating book with an excellent collection of test pilot signatures.