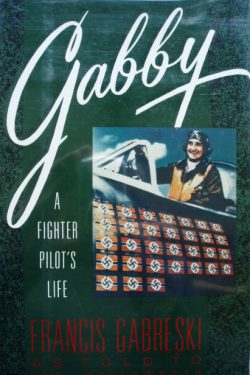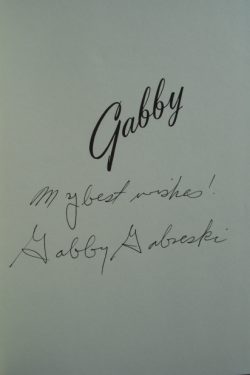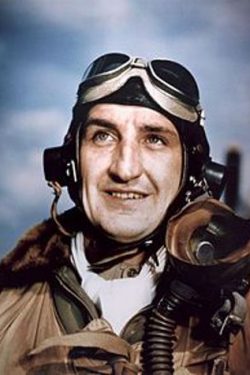 GABBY: A Fighter Pilot's Life
Memoirs of a World War II Fighter Ace
Signed by Colonel Francis 'Gabby' Gabreski
Signed without dedication on the half title page 
My best wishes!
Gabby Gabreski
Orion Books First edition, first printing 1991.  277 pages and well illustrated with photographs.
Fine condition hardback book in two-tone green and tan covers with white titles.  The unclipped dustjacket is also in Fine condition. A lovely copy.
This is the full story of Gabby Gabreski, told in his own words. His exploits as a fighter pilot in World War II and Korea were legendary; his rise from humble beginnings to success in military and business careers is inspiring.
Gabreski's life was a classic American success story. Born to Polish immigrant parents in 1919, he nearly washed out of Notre Dame and then flight school. He was down to his last chance, and he made the most of it. A witness to the Japanese attack on Pearl Harbor, Gabby got airborne in his Curtiss P-36 too late to challenge the departing raiders. Desperate to join the war, he wangled a transfer to England and had his own first taste of air combat flying Spitfires with 315 Free Polish RAF squadron. Shortly thereafter he joined the 56th Fighter Group of the US 8th Air Force, and in seventeen months he shot down twenty-eight German fighters, the highest total of any 8th Air Force pilot in Europe.
He became a hero whose name was splashed across newspaper headlines from coast to coast. And then, on the very day he was to fly home to his fiancée and a hero's welcome, he took one last combat mission, crashed and, after a daring attempt to avoid capture, finished the war in a POW camp.
Gabreski returned to combat in 1951, flying F-86 Sabre jets over Korea. He scored 6.5 more victories there, making him one of the few pilots ever to achieve ace status in two wars and in both propeller and jet aircraft. He retired from the Air Force as a colonel in 1967 and spent the next twenty years working in the aviation and railroad industries.  He died in 2002.
'A heck of a good book by a heck of a good fighter pilot! I recommend 'Gabby' to anyone who wants an accurate description of what war is all about, including the dedication required to win it.'  Gen. Charles E. 'Chuck' Yeager 
A superb signed copy of this important autobiography.