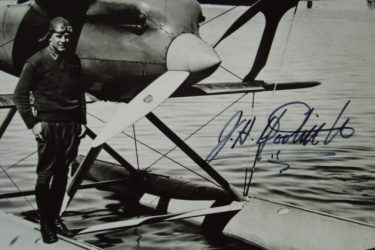 General JIMMY DOOLITTLE
Legendary Airman and 1925 Schneider Cup Winner
Photo signed by General Jimmy Doolittle
General James H Doolittle

(1896-1993)
Official photograph of the Curtis R3C-2 Racer flown by Lt JH Doolittle to win the 1925 Schneider Cup
Signed by Jimmy Doolittle in black ink
Gen. James H. (Jimmy) Doolittle was a tough Los Angeles street kid who rose to become one of the great figures in world aviation and a World War II air hero of epic stature.  Doolittle was best known as the daring leader of the legendary bombing raid on Tokyo in 1942, the first significant American success against the Japanese during World War II. He was awarded the Medal of Honor for that mission, which historians have credited with pushing the Japanese Navy prematurely into its disastrous attack on Midway, a defeat said to be a turning point in the Pacific war.
Although rightly celebrated as military pilot and inspirational battle leader–he wound up as commanding general of the immense US 8th Air Force in Europe–Doolittle may have contributed even more as a pioneer test pilot who was one of the first to make the transition from seat-of-the-pants daredevil to scientific flier. Doolittle already was a famous flier when the virtually unknown Charles A. Lindbergh made his sensational solo flight across the Atlantic to Paris in 1927, and many believe his contributions to aviation matched or even surpassed those of the more famous "Lone Eagle." Doolittle had become the first man to fly across the United States in less than 24 hours five years before Lindbergh became the first to make the transatlantic crossing.
In 1923, after serving as a test pilot and aeronautical engineer, Doolittle entered the Massachusetts Institute of Technology. He conducted aircraft acceleration tests which became the basis of his master's thesis and led to his second Distinguished Flying Cross. His subsequent doctorate in aeronautical engineering was the first ever issued in the United States.
Following graduation, Doolittle attended special training in high-speed seaplanes and was a familiar figure in air speed record attempts in the New York area. He won the Schneider Cup race in a Curtiss R3C in 1925 with an average speed of 232 mph. For that feat, Doolittle was awarded the MacKay Trophy in 1926
A superb signed photograph in Fine condition, measuring approx. 9 x 7 inches