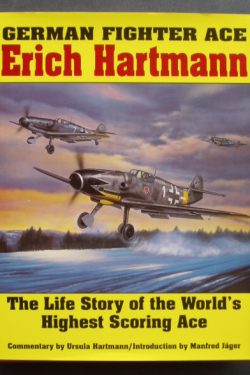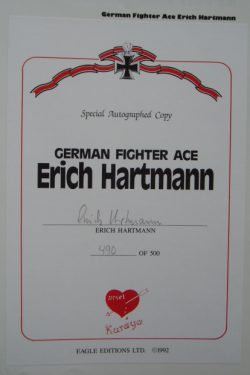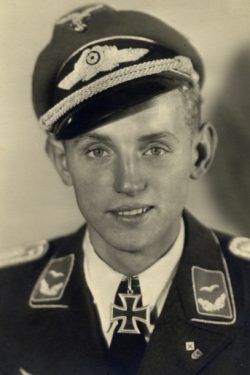 GERMAN FIGHTER ACE ~ Erich Hartmann
The Life Story of the World's Highest Scoring Ace
Signed by Oberst Erich Hartmann
Sold
Special limited edition bookplate 490/500 signed by Erich Hartmann
in pencil mounted on the half title page
Schiffer Military History. First edition 1992.  296 pages and very well illustrated with over 300 photos from Hartmann's own collection.
A Fine condition hardback book in maroon boards with an embossed Bf109 on the front cover and marbled endpapers. Clean, bright and tight.  The Fine condition dustjacket is bright and complete. An excellent copy of this fantastic book. 
This is the biography of the highest scoring ace in history told through photographs and a commentary by Ursula Hartmann. 
Erich Hartmann was the top scoring Luftwaffe fighter pilot of WWII. Nicknamed "Bubi" by his German comrades and "The Black Devil" by his Soviet adversaries, he flew 1,404 combat missions and participated in aerial combat on 825 separate occasions. He claimed, and was credited with, shooting down 352 Allied aircraft—345 Soviet and 7 American—while serving with the Luftwaffe. During the course of his career, Hartmann was forced to crash-land his damaged fighter 14 times due to damage received from parts of enemy aircraft he had just shot down or mechanical failure. Hartmann was never shot down or forced to land due to enemy fire.  He survived the war to spend 10 years as a Soviet POW and then re-joined the reformed German Air Force and commanded a wing of F-86 Sabres before his politically unwelcome views about the purchase of the F-104 Starfighter effectively finished his career.
A magnificent, glossy and enthralling book complete with the original Eagle Editions bookplate produced by Jerry Crandall who also did the cover artwork. The best Hartmann book by any standard.