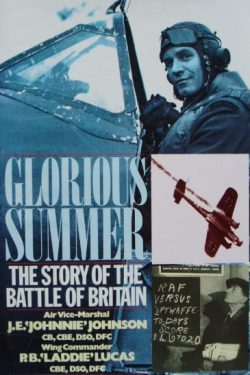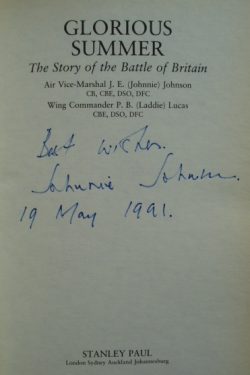 GLORIOUS SUMMER
The Story of the Battle of Britain
Signed by Air Vice-Marshal Johnnie Johnson
Sold
Signed and dated by Johnnie Johnson on the title page
Stanley Paul First edition 1990.   213 pages and 16 pages of photographs
Fine condition hardback book in a Fine condition dustjacket.  The book is clean, tight and has the usual light tanning due to the paper used by this publisher. However it is a super copy which looks very smart in a protective wrapper.
The story of the Battle of Britain in an anthology compiled by two of the most distinguished fighter pilots of WWII to commemorate the 50th Anniversary of the Battle.
The drama and immediacy of this epic aerial encounter is drawn from excerpts from memoirs, combat reports, diaries, letters and memories of the airmen and also from the men and women on the ground who daily watched their fate being decided in the sky above them. The result is a fascinating and eloquent memorial to the Glorious Summer of 1940 and a fitting tribute to those who fought it.
A great book to read or just to dip into and enhanced by the bold, undedicated signature of the official top scoring RAF fighter pilot of WWII.